Members of Survivors of Those Abused by Priests Ask Springfield Bishop Timothy Mcdonnell to Intercede in Clergy Sex Abuse Case

By Stephanie Barry
The Republican
May 11, 2010

http://www.masslive.com/news/index.ssf/2010/05/members_of_survivors_of_those.html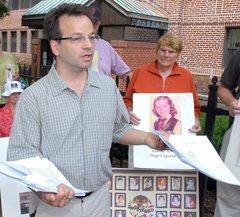 William J. Nash, of Ashfield, who says he was a victim of clergy abuse, is seen at a demonstration in 2008 near the chancery of the Roman Catholic Diocese of Springfield Elliot Street, Springfield. The priest was not assigned in the Springfield diocese.



SPRINGFIELD – Members of a clergy abuse victim advocacy group held a press conference outside the chancery of the Roman Catholic Diocese of Springfield, calling for the region's top cleric to contact the Vatican.

William J. Nash, an Ashfield resident who says he was abused by the Rev. James Tully, a member of the Xaverian Missionary Fathers, has held several such public meetings to expose alleged abusers from that religious order.

On Tuesday, Nash called for local Bishop Timothy A. McDonnell to ask Vatican officials to investigate the order's policies and practices.

Officials at the order's headquarters in New Jersey have refused comment.

Nash is a member of Survivors of Those Abused by Priests, or SNAP, an active and vocal network of volunteers who support victims and work to expose priests accused of abuse.

He said since he reached a $75,000 out-of-court settlement with the order in 2005, two other members have since been accused: the Rev. Mario Pezzotti and most recently Brother Eugenio Cumerlato.

Mark E. Dupont, a spokesman for the diocese, said although Xaverian priests and those from other religious orders may have served in local churches over the years, they are not diocesan appointments.

"Although this does not directly involve our diocese, as he does with all such matters, Bishop will accept this for review," Dupont said.