Fr Eugene Lewis Denies He Abused Sisters

BBC News
May 12, 2010

http://news.bbc.co.uk/2/hi/uk_news/northern_ireland/8679018.stm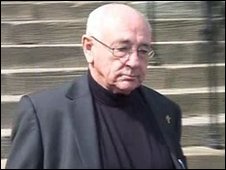 Father Lewis denies the charges against him



A priest accused of abusing three sisters at their home in County Fermanagh has told his trial that he never touched them in any indecent way.

Father Eugene Lewis, 75, denies 11 charges of assault between 1963 and 1973. The sisters say the abuse began when they were as young as seven.

On Wednesday, Father Lewis took the witness stand at Omagh Crown Court.

When asked if he had committed any sexual offence against any of the sisters he replied "absolutely none".

During cross-examination by the prosecution, he said: "I never approached these girls with any sexual intent and I never abused them in anyway."

The sisters have claimed he often called at bedtime or on Saturday bath night and would indecently assault them while telling them bedtime stories.

Fr Lewis was ordained in 1958 and after his time at seminary in Blacklion, County Donegal between 1960 and 1970, he went to Dublin and then served on missions overseas.

More recently he has worked in west Belfast.

The trial is expected to last several weeks.