Priest's Future Weighed

By Jonathan Silver
Pittsburgh Post-Gazette
May 13, 2010

http://www.post-gazette.com/pg/10133/1057838-455.stm

A year after he was placed on leave from a Charleroi parish over sexual abuse allegations, a Catholic priest will learn whether he can return to ministry.

An independent review board next month is scheduled to interview the Rev. David Dzermejko and any alleged victims, review the accusations against him, and recommend a course of action to Bishop David A. Zubik.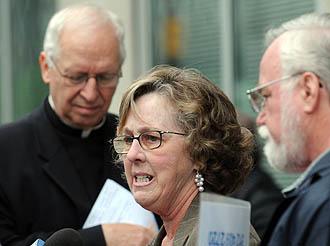 Judy Block Jones, Midwest Associate Director of SNAP (Survivors Network of those Abused by Priests) talks with the media in front of the Catholic Diocese Chancery office asking that the diocese do more to publicize allegations against clergy and to annonce the formation of a support group for clergy sex abuse victims in Pittsburgh. Rev. Ronald Lengwin with the Catholic Diocese and Steven Spaner, with St. Louis SNAP listen.



Father Dzermejko, who was ordained in 1974, has been on administrative leave from Mary Mother of the Church parish since June after an allegation about sexual abuse of a minor that the diocese deemed to have "some semblance of truth," said the Rev. Ronald Lengwin, spokesman for the Diocese of Pittsburgh.

Father Lengwin has said the accusation did not involve Mary Mother of the Church parish. He said Wednesday that the alleged victim is dead and the accusation was made by his parent.

The update about Father Dzermejko's status came in response to an afternoon news conference in front of the diocese's Downtown offices by two members of the group Survivors Network of those Abused by Priests, or SNAP.

Judy Block Jones of St. Louis, SNAP's Midwest associate director, handed Father Lengwin a letter for Bishop Zubik asking that the diocese do more to publicize credible allegations.

Father Lengwin revealed that a second allegation was made against Father Dzermejko shortly after the first one came to light.

Mike Manko, a spokesman for the DA's office, confirmed that prosecutors were made aware of the complaints but said the office is not pursuing charges at this time.