Vermont Roman Catholic Diocese, Priest Abuse Victims Reach $17.65 Million Settlement

By Sam Hemingway
Burlington Free Press
May 14, 2010

http://www.burlingtonfreepress.com/article/20100514/NEWS02/100513034/Diocese-priest-abuse-victims-reach-17.65-million-settlement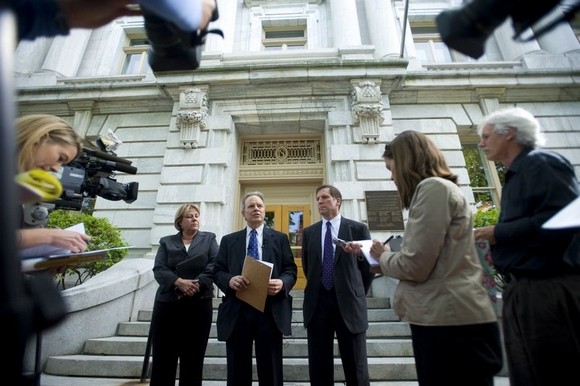 Jerome O'Neill (center), the lead attorney for alleged victims of priest sexual abuse, talks Thursday about the $17.6 million settlement the Roman Catholic Diocese of Burlington paid to settle 26 lawsuits alleging incidents of long-ago child molestation by priests.
Photo by Emily Mcmanamy, Free Press


The state's Roman Catholic diocese, hoping to finally put a painful clerical sexual abuse scandal to rest, paid out $17.6 million Thursday to settle 26 lawsuits alleging incidents of long-ago child molestation by priests in Vermont.

The settlement was announced in back-to-back afternoon news conferences staged by the diocese and then lawyers for the victims, nearly all of whom were young altar boys in the 1970s when they were molested by priests.

In addition to the $17.65 million paid to the 26 victims, the diocese agreed to pay undisclosed amounts of money to settle the cases of three other former altar boys who won large damage awards at trial. Those cases were on appeal before the Vermont Supreme Court.

Timeline: Key developments in claims of abuse against the Roman Catholic Diocese of Burlington

"The total the diocese has paid is more than $20 million this year," Jerome O'Neill, lead attorney for the victims, told reporters. He spoke from the steps of Chittenden Superior Court in Burlington, the court where the lawsuits were filed and where six went to trial.

"Our clients are very happy to have an opportunity to close this chapter of their lives," he said. "All of them know that nothing goes away, nothing changes. They will live with this for the rest of their lives."

A somber Bishop Salvatore Matano, speaking at the diocesan headquarters on North Avenue — which was put up for sale to help pay the settlements — said the diocese agreed to the deal as a way to end the pain the abuse scandal has caused for both the victims and the church.

"These unfortunate incidents crippled the life of the church," Matano said as diocesan attorneys Thomas McCormick and Kaveh Shahi looked on. "It seriously impacted her mission. Now it is my task to rejuvenate that mission."

Matano, who joined the statewide diocese in 2005, inheriting the litany of lawsuits when he arrived, said he deeply regretted the abuse the victims had endured.

"I apologize most sincerely for the pain the victims have suffered," he said. "I ask for all of our faithful to pray for our wounded brothers and sisters."

He also used his news conference to ruminate on his own handling of the priest sex abuse cases.

"I sat through several of these trials and faced the judgment of this life," he said. "One day I will face the judgment of the ultimate judge, who is God, for the consequences of the actions I have taken. I pray he will have mercy on me."

"I pray I have not been lax in my duties," Matano said at another point. "I pray I have not been insensitive or impractical."

Matano said no church programs will be affected by settlement cost. He said sale of the diocesan headquarters and a sprawling church camp complex in Colchester will help pay off the $17.65 million loan the diocese obtained to pay the settlement.

New solution

The deal reached Thursday marks a major shift in strategy by the diocese, which until recently had chosen to have the cases tried in court one by one if they could not be settled easily.

In 2008, two trials ended with damage verdicts of $8.7 million and $3.6 million respectively; another trial in October resulted in a $2.2 million award. Two other cases ended in mistrials, one of which resulted in a $15,000 verdict for the victim after the case was retried.

Of the 26 cases covered by the settlement, 19 involved claims by former altar boys who said the Rev. Edward Paquette fondled them, often repeatedly, during his time as a parish priest in Rutland, Montpelier and Burlington between 1972 and 1978.

Paquette was suspended from priestly activities by then-Bishop John Marshall in 1978 under pressure from the parents of altar boys at Christ the King Church in Burlington.

The diocese did not dispute that the abuse occurred, but claimed it had been advised by church psychiatrists that Paquette had been cured of what was identified as "homosexuality" at the time. Church documents displayed during the trials showed that the diocese hired Paquette in 1972 even though he had molested boys at parishes in Massachusetts and Indiana.

Paquette, who lives in Westfield, Mass., and was officially defrocked by the Vatican in 2009, told the Free Press last year he regretted his conduct.

"If what I know now I knew back then, all of this would have been avoided," he said. "But I was blinded. It's hard to explain why I did it. I don't know."

Thursday's developments do not necessarily spell the end to the diocese's clerical sex abuse troubles, O'Neill said.

"There is a very substantial likelihood there will be future cases," O'Neill told reporters. "It's very, very, very hard for people to come forward after they have been molested. ... When others come forward, it gives the ability for someone else to say, 'If that person has done it, maybe I can do it, too.'"

O'Neill said his clients who are party to the mass settlement — 25 men and one woman — took a courageous stand in pursuing their cases

"They have mixed feelings about the settlement," he said. "A few are frustrated that they will not get the chance to present their case to a jury." He said he would have preferred taking the cases to trial, but understood that the settlement was in the best interest of his clients.

The settlement was hammered out over the past three months during closed-door mediation sessions between O'Neill's firm and lawyers for the diocese, O'Neill said.

Last month, Judge Helen Toor said she wanted to accelerate the process of resolving the cases by conducting a joint trial in September on all of the Paquette claims. O'Neill and McCormick both have said they had misgivings about that plan. O'Neill said Thursday that Toor's proposal was not a factor in reaching the settlement.

O'Neill said his law firm plans to hire an arbitration expert to meet with the 26 victims and decide how much of the $17.65 million each one will receive, based on the relative harm done to them and how they've coped with the abuse. He said that process should be completed by the end of June.

O'Neill deflected a question about how much his law firm will receive.

"I can tell you we worked a lot of long hours," he said. "We also had very substantial costs we put out over the years which we are just now recovering. It's been a long, long time coming."

Contact Sam Hemingway at 660-1850 or e-mail at shemingway@burlingtonfreepress.com To have Free Press headlines delivered free to your e-mail, sign up at www.burlingtonfreepress.com/newsletters.