Former Boonville Priest Extradited

Columbia Daily Tribune
May 17, 2010

http://www.columbiatribune.com/news/2010/may/17/former-boonville-priest-extradited/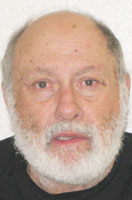 Howard



A former Boonville Catholic priest indicted last month on charges of sodomy and kidnapping has been extradited to the Cooper County Detention Center.

Gerald J. Howard, 65, of Bloomfield, N.J., was transferred from the Essex County Jail and is being held on a $1.5 million bond. The former priest arrived Friday at the Cooper County Detention Center, Sheriff Jerry Wolfe said.

Howard's arrival continues the judicial process concerning three counts of forcible sodomy, three counts of attempted forcible sodomy and two counts of kidnapping stemming from alleged incidents involving three minors in the mid- to late 1980s. A Cooper County grand jury returned an indictment on the charges last month.

If convicted on all counts, Howard could face multiple life sentences on the sodomy charges, plus additional sentences of as many as 15 years in prison on each of the kidnapping charges.

Howard, formerly known as Carmine Sita before his arrival in Boonville, also worked at the now-closed Charter Hospital in Columbia.