Bloomingdale Priest Removed from Post

By Marco Santana
Daily Herald
May 19, 2010

http://www.dailyherald.com/story/?id=381914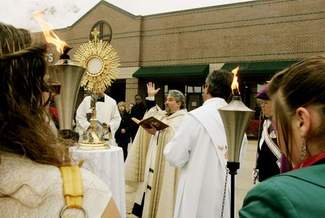 Rev. Jerry Simonelli, center, has been removed from his position as pastor at St. Isidore Catholic Church in Bloomingdale.



A Bloomingdale priest accused by a 21-year-old male of sexually inappropriate conduct has been removed from St. Isidore Catholic Church in Bloomingdale, church officials confirmed Wednesday.

A DuPage County State's Attorney investigation into the matter did not find enough evidence to pursue criminal charges against Rev. Jerry Simonelli, said Tom Norton, the church's executive administrator. However, during the Diocese of Joliet's investigation, officials discovered that Simonelli had violated the church's vow of celibacy in a past relationship with a man, according to Bishop J. Peter Sartain's executive assistant Doug Delaney.

"It was consenting behavior, but a priest takes a vow of celibacy," he said. "It's the same vow married people take. He was unfaithful to his vows on more than one occasion."

Delaney stressed that Simonelli's violations happened before he became priest at St. Isidore about two years ago.

"It's certainly a tragedy for the father but especially for parishioners who look to the father and all priests for spiritual guidance," he said. "It's a difficult time for everybody involved."

St. Isidore is one of the largest in the diocese with more than 9,000 parishioners.

In a letter written to parishioners, Sartain said he did not announce the allegations sooner because he wanted to allow the investigation to run its course.

"I want to sincerely apologize for the distress and sadness this situation causes you," Sartain told parishioners. "I know Father Jerry feels the same way."

Sartain announced the allegations and the resulting leave of absence during weekend Masses, Norton said.

"The allegations were made by a person not associated with our parish or any other parish where Father Jerry has ever served," Norton said. "It's a great loss for the parish, and we have Father Jerry and everyone involved in our prayers."

Rev. Dennis Paul will take over as interim pastor until Sartain appoints a permanent replacement this summer.