Former Good Shepherd Associate Pastor Sentenced to One Year in Jail for Attempted Sex Abuse

By Paul Glasser
State-Journal
May 20, 2010

http://www.state-journal.com/news/article/4831674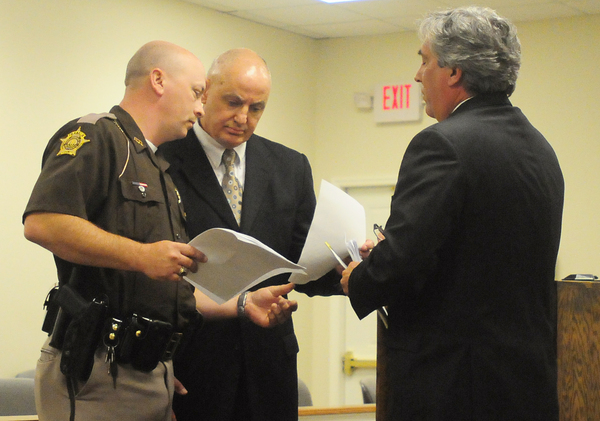 Rev. Joseph Muench, center, talks to the court's sheriff and his lawyer, Jeffrey Darling, Friday morning in Franklin County Circuit Court after being sentenced to one year in prison for one count of false imprisonment and one count of attempted sexual abuse. Muench is to turn himself in Monday morning.



A former Good Shepherd associate pastor who pleaded guilty to charges of unlawful imprisonment and attempted sexual abuse will begin serving a one-year jail sentence on Monday.

Circuit Judge Thomas Wingate ordered Rev. Joseph N. Muench, 55, of Lexington, to report to the Franklin County Regional Jail at 8 a.m. Monday.

Wingate sentenced Muench (pronounced "Minch") on Friday to one year on each count to run concurrently and denied his attorney's request for probation.

"You were placed in a position of trust," Wingate said. "You should spend this weekend asking a higher power for forgiveness."

Muench was accused of sexually abusing two men in separate incidents between 1980 and 1985 while he was an associate pastor at Good Shepherd. He entered an Alford plea to reduced charges in March.

An Alford plea means he doesn't admit to the crimes, but there's sufficient evidence to convict him. He resigned from his position as pastor at Mary Queen of the Holy Rosary in Lexington after pleading guilty.

The temporary courtroom was filled with approximately 35 friends, family and supporters of Muench.

Muench's attorney, Jeffrey Darling, said the supporters did not come at his request.

"They just came," Darling said.

Several of them covered their faces or began crying after he was sentenced to one year in jail. Many of them had submitted letters to Wingate expressing their support for Muench.

Several supporters gathered in the hallway but declined to comment on the sentencing. Darling did not immediately respond to a request for comment Friday.

Muench only spoke when he answered questions during the sentencing hearing Friday. He spent most of the hearing staring at the floor and shuffling his feet.

Darling said Muench couldn't apologize and show remorse as people normally do during a sentencing hearing.

"He entered a plea because it was the right thing to do," Darling said. "He entered a plea as part of the big picture."

However, Muench can't apologize in court because lying would jeopardize his immortal soul, Darling said.

"What happens on this earth is a very small part of his eternal life," Darling said.

Muench was the perfect candidate for probation and wouldn't hurt anyone, Darling said. He also suffers from arthritis in his spine and would suffer physically in prison according to his doctor, Darling said.

Darling questioned why it took so long for the victims to come forward and said the allegations were "uncorroborated."

Commonwealth's Attorney Larry Cleveland said Wingate made the right decision in sentencing Muench.

Cleveland said with credit for good behavior Muench could be out in seven months.

He also said the case was difficult to prosecute.

"It was walking a tight rope between aggressively prosecuting the case but also keeping the victims out of court," Cleveland said.

Going to trial and asking the victims to testify would "reopen old wounds" and cause "serious emotional damage" to the victims, he said.

Staff Writer Kevin Wheatley contributed to this story.