Pope Failed to Defrock Priest Despite Being Asked to by Bishop

By Nick Allen
The Telegraph
May 31, 2010

http://www.telegraph.co.uk/news/worldnews/europe/vaticancityandholysee/7787175/Pope-failed-to-defrock-priest-despite-being-asked-to-by-bishop.html

The case involved an American priest, the late Rev Alvin Campbell, who was sentenced to 14 years in prison in 1985 for abusing seven boys.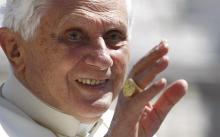 Pope Benedict XVI: The Catholic Church has faced a series of abuse claims
Photo by AP


After he was jailed Bishop Daniel Ryan of the diocese of Springfield, Illinois, wrote to Cardinal Joseph Ratzinger, the future pope, asking for Campbell to be defrocked immediately, instead of going through a church trial which would be harrowing for victims.

But Cardinal Ratzinger turned down the bishop's plea because the abuser himself refused to agree to it.

According to documents obtained by the Associated Press from court records, the cardinal wrote on July 3, 1989: "The petition in question cannot be admitted in as much as it lacks the request of Father Campbell himself." The decision was in keeping with church law at the time and provides the latest evidence of how the system frustrated US bishops struggling to root out abuse.

Several decades old cases have recently emerged raising questions about decisions taken by Cardinal Ratzinger's office in abuse cases. The Vatican has denounced what it calls a campaign to smear the pope and his aides.

Campbell had been an Army chaplain but left after abusing at least one boy.

He then became a pastor in Illinois and began plying boys with video games, bicycles, watches and other gifts before abusing them.

He was released after serving half his jail sentence in 1992, and was eventually convinced by priests in his diocese to accept defrocking without a church trial.

David Clohessy, director of the Survivors Network of those Abused by Priests, said: "Ratzinger chose to put concerns about dangerous paedophiles and the church's reputation above concerns about children's safety."

Jeffrey Lena, the Vatican's lawyer in the US, said the church's legal system had been designed to protect the innocent, as well as punish the guilty, and had since been improved.

Rev Tom Doyle, a canon lawyer who reviewed the Campbell case, said: "The practice had been not to accept the petition unless the priest accepted." In March the Vatican denied claims that the Pope had failed in the 1990s to defrock Father Lawrence Murphy, another American priest, who was accused of molesting up to 200 deaf boys over several years.