Former LA Salle Priest Accused of Molestation

CBS 4
June 10, 2010

http://cbs4.com/local/La.Salle.Priest.2.1781975.html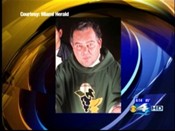 Father Ernesto Garcia Rubio



The Archdiocese of Miami is facing a new lawsuit for a familiar allegation. For the first time, an alleged victim is telling his story of alleged sexual abuse at La Salle High School, which he claims was covered up by the archdiocese.

"It was in today's terms a pedophile circus," said the alleged victim, who wished not to be identified for this story.

Now a middle aged man, John Doe 67 described his interaction as a child with Father Ernesto Garcia Rubio.

"He looked at you as if he was going to hurt you. He had an intimidating demeanor. He would go from bed to bed and hug the kids and touch them and do all kinds of stuff that was not right," said Jon Doe 67 to CBS4's Jorge Estevez.

John Doe 67 was able to mostly avoid Father Garcia Rubio except for one time.

"He grabbed me and at the same time he grabbed my private area and started fondling me. At the same time, he looked at you with lust," said John Doe 67.

A few years later, as a student at La Salle High School in Miami, the teenager found the strength to confront the priest.

"He asked me what I said about him. When I told him he was a pedophile, he threw a bible at me," said John Doe 67, who was expelled and then moved on with his life until now, when he learned that other victims had come forward.

"A lot of the kids were molested as they were reading. They would put the books in your crotch area and put the hand under it. At the same time do a rotating move," described John Doe 67, whose anger is geared toward the archdiocese who he feels covered up years of abuse.

Lawyers are filing a lawsuit alleging that the Archdiocese of Miami covered up years of abuse. They cannot go against Father Ernesto Garcia Rubio himself, because the statute of limitations on sexual misconduct has expired.

Now they want to prove the Archdiocese was negligent -- a charge that also has a statute of limitations, but they are hoping a judge will make an exception based on evidence.

"Fraudulent concealment means the Archdiocese actively took steps to make sure he (John Doe 67) never knew what they were doing to protect this man," said Jessica Arbour, a lawyer representing the alleged victim.

Now John Doe 67 wants to protect the victims.

"I happen to think the disease is of the mind, and something like what he did to us will never go away unless he goes away," said John Doe 67.

In a statement the Archdiocese of Miami said: "As always, the Catholic Church's concerns are for the victims and a prevailing sense of justice. In addition, over these past eight years, it has been forthcoming and taken steps to keep our children safe through training and background screenings."