A Blast from Bishop Tod Brown's Boise Pedo-protecting Past (first of Three Blasts)

By Gustavo Arellano
Orange County Weekly
June 14, 2010

http://blogs.ocweekly.com/navelgazing/ex-cathedra/a-blast-from-bishop-tod-browns/



[See also other articles by Gustavo Arellano.]




Brownie



When Diocese of Orange Bishop Tod D. Brown came here from the Diocese of Boise (where he was also bishop) in 1998, the prose that the Los Angeles Times and Orange County Register spilled on the event was so purple that it made Brownie's preferred lavender robe tones seem downright white ("He has a cherubic face, scholarly glasses, graying hair and an angelic smile," wrote the Register--GAG). None bothered to look into his past in defending and covering up for pedophile priests in Boise--until we did right now...that is, after the jump!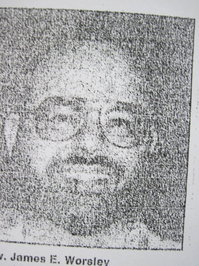 Worsley. Apologies for the bad picture quality, but when it comes to these bastards, you get what you can find...



Our first examination of Brownie's Boise past starts with James E. Worsley. In December of 1992, a sex-abuse survivor told Brownie that Worsley had repeatedly molested him during the 1970s. Worsley confessed and immediately resigned--but Brownie didn't bother publicly disclosing the rapes until two months after Worsley's confession, and didn't bother defrocking the pedo-priest until the Idaho Statesman broke the story in September 1993, nearly nine months after Worsley's victim came forward.

Even then, Brownie stonewalled all the way. He crafted a statement read only to Worsley's last congregation because Brownie didn't think Worsley's previous parishes needed to know about the issue. He admitted that Worsley was sent to some clinic and diagnosed with a psychological disorder, but Brownie claimed it wasn't pedophilia and he refused to tell the Statesman what was Worsley's disorder. And while Boise prosecutors couldn't go after Worsley due to statute of limitations, police detectives told the paper they suspected there were more victims--but Brownie said he didn't think so, and that was that.

Flash-foward to 2005. At that point, Worsley had worked for over a decade in Portland, Oregon, for Goodwill Industries as director of transitional services. Someone alerted Goodwill about Worsley's past, and he immediately resigned. Goodwill officials told the press they had no clue about Worsley's skeletons even though they had called the Boise diocese in 1994 (when Goodwill hired Worsley) for a background check. Meaning? Even though Brownie had a confession from a pedo-priest, he didn't bother telling Goodwill about their new employee. Heckuva job, Brownie!

*UPDATE: Just read Brownie's infamous 2007 deposition to see if he mentioned Worsley--he did. The institute was the Institute for Living, a pedophile treatment facility in Connecticut. Asked of Worsley's whereabouts, Brownie replied, "I think he's working in Oregon someplace." Well, DUH, Brownie: Goodwill called you for a background check, and you said nothing about Worsley's crimes! Brownie also made the excuse that he didn't call the police on Worsley because his victim was already an adult. Heckuva job, Brownie!

E-mail: GARELLANO@OCWEEKLY.COM