Obituary: Paul S. Cultrera, 95

Salem News
June 23, 2010

[See also the Frontline documentary Hand of God.]

http://www.salemnews.com/obituaries/x1617558781/Paul-S-Cultrera-95

SALEM — Mr. Paul S. Cultrera, 95, beloved husband of Josephine (Giunta) Cultrera, died Sunday evening, June 20, 2010 at his home surrounded by his family.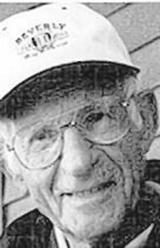 Paul S. Cultrera



Born in Hartford, Conn., he was the son of the late Paolo and Guiseppa (Garro) Cultrera of Canicattini Bagni, Sicily. A leather worker by trade, Mr. Cultrera had been associated with many leather companies on the North Shore and was a member of the International Leather Workers Union.

A longtime active communicant of the former St. Mary's Italian Church in Salem, Paul also served as president of the Church's Bingo Committee. He was a member and former officer of the Christopher Columbus Society, a honorary member of the Beverly Golf and Tennis Club, where he scored five holes in one, and a self-taught artist whose work was exhibited at the Peabody Essex Museum

A pillar of the Italian-American community in Salem, Paul was a member and one of the founders of the Salem Italian-American Credit Union, Paul became a father to many through the documentary film, Hand of God, when it aired on PBS Frontline.

In addition to his beloved wife of 65 years, Paul is survived by his daughter, Maria (Cultrera) Morello and her husband Robert of Salem; his sons, Paul S. Cultrera Jr. of California and Joseph A. Cultrera and his friend Mary Beth Bainbridge, both of Salem; and many nieces and nephews. He was also the brother of the late Salvatore Zocco and Nina Ali.

ARRANGEMENTS: His funeral will be held from The O'Donnell Funeral Home, 46 Washington Sq., (at Salem Common) Salem, Thursday at 8:15 a.m. followed by his funeral Mass in Ste. Anne's Church, Salem at 9 a.m. Relatives and friends invited. Burial in St. Mary's Cemetery, Salem. Visiting hours Wednesday 4 to 8 p.m. Online guestbook at www.legacy.com. For more information, inquire at 978-744-2350, 978-744-2350, 978-744-2350. Expressions of sympathy may be made in Paul's memory to the Hospice of the North Shore, 75 Sylvain St., Suite B-102, Danvers, MA 01923, or to the Salem Council on Aging, 5 Broad St., Salem, MA 01970, or to the Salem Community Arts Center [with video of Paul Cultrera speaking about St. Mary's Italian, the church that the Arts Center is working to preserve], 57 Wharf St., 3F, Salem, MA 01970.