Wichita Diocese

By Shaun Hittle
Lawrence Journal-World
June 25, 2010

http://www2.ljworld.com/news/2010/jun/23/wichita-diocese/

A representative from the Wichita Diocese didn't return repeated phone calls from the Journal-World requesting information.

The Diocese responded to a certified letter sent in November. In that letter, Bishop Michael Jackels confirmed that the Diocese has received 22 "allegations of sexual abuse of minors" since the implementation of the Charter in 2002.

Of the 22, Jackels said that 20 were made against clergy who "were already deceased, or removed from ministry, or voluntarily left the priesthood, or retired from active ministry."

The other two "were determined to lack sufficient evidence that sexual abuse of a minor by clergy had occurred," Jackels said.

Jackels declined to give the names of any priests accused, or in cases where the abuse was substantiated, saying "it would not serve to benefit anyone were we to provide the names you requested."

Diocese representatives declined an interview request.

Jackels ended the letter by saying, "This response may not include everything you asked for, but I hope you will appreciate that there is and will be nothing more to say on the matter, even were you to make further inquiries."

Cases

• Robert Larson: Convicted in 2001 of one count of indecent liberties with a child, though he admitted in his guilty plea to abusing three minors. Served five years in a Kansas prison, and was then transferred to a Catholic treatment facility near St. Louis where he has been ordered to remain for the rest of his life.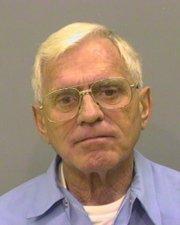 Kansas Department of Corrections Kansas Department Corrections photo of Robert Larson, a former Wichita-area priest and convicted sex offender.



Larson spent 30 years in the Wichita Diocese.

At least five former altar boys who accused Larson of abuse later committed suicide as adults, according to published reports.

• Daniel Mulvihill, William Wheeler, Agnesina Metzinger: A 1996 civil suit accused two priests -- Daniel Mulvihill and William Wheeler -- and one nun -- Agnesina Metzinger -- of sexual abuse in the 1950s. The alleged abuse occurred at the St. Joseph's Children's Home in El Dorado, a former orphanage run by the Wichita Diocese.

The suit was filed by members of the Albert family who had lived at the home from 1949 to 1957. The seven Albert children were removed from their Wichita home in 1949 because of parental neglect and placed at the orphanage. Among the accusations in the lawsuit was a claim by the family that a priest at the home fathered the child of Darlene Albert, who died in 1993.

The diocese denied the allegations, and the suit was dismissed due to statute of limitations. According to published reports, Wheeler died in 1994, Metzinger died in 1978, and Mulvihill died in 2006.

• Robert Blanpied: A Colorado man filed a lawsuit against the Wichita Diocese alleging abuse against this former Wichita priest. However, lawsuit was dismissed in 1995 due to statute of limitations. According to court documents, Blanpied admitting to sexual relations with an 11-year-old boy in the 1960s.

Blanpied died in 2003, according to the Social Security Death Index.