Priest Wrote of Forgiveness before Surprise Resignation

By Mike Labella
Eagle-Tribune
June 25, 2010

http://www.eagletribune.com/haverhill/x383283126/Priest-wrote-of-forgiveness-before-surprise-resignation

HAVERHILL — One week before the Rev. Keith LeBlanc resigned amid charges of financial improprieties at St. John the Baptist Church, he wrote about the importance of forgiveness.

In his church bulletin dated Sunday, June 13, LeBlanc told parishioners it is easy for people to judge very quickly when a person of popularity or fame has committed an offensive act.

"How do we perceive these people against our own values?" LeBlanc, who was the church's pastor, wrote in the bulletin. "Are we ready to forgive them? Are we ready to give them another chance? Can we accept their apology as really being one of sorrow? In fact, very few of us are willing to forgive unless first there is contrition, tears, and words that show that person is truly sorry."

Yesterday, Thomas Anthony, deacon at St. John the Baptist, said there is nothing to indicate LeBlanc's message was a sign of things to come. Anthony said he doubted LeBlanc knew at the time about the Boston Archdiocese's plan to launch an investigation into his church's finances.

"No premonition, no foreshadowing ... an absolute coincidence," Anthony said. "Our mission is we've always preached forgiveness, to love the sinner and hate the sin. It's something Father Keith and I have consistently preached on."

Haverhill's Catholic community has been shocked by the sudden resignation and departure of LeBlanc, who was popular and led St. John the Baptist Parish since 2003. Last weekend, parishioners were told that LeBlanc was escorted by Catholic Church officials to Philadelphia, where they are conducting an investigation and providing him with counseling. An audit of finances at St. John the Baptist is being conducted, parishioners were told.

Other Haverhill churches affected

LeBlanc's departure has had a ripple effect in Haverhill, and comes as St. John the Baptist prepares to celebrate its 55th anniversary this weekend.

Priests at other Haverhill Catholic churches have talked or written to their parishioners about the LeBlanc situation. One pastor assured the members of his church that their parish finances are safe.

This week, the Rev. Robert Conole, pastor of Sacred Hearts Parish in Bradford, issued a parish bulletin in which he refers to the events at St. John the Baptist Church and asks members to pray for LeBlanc and the Rev. Paul Coughlin, LeBlanc's temporary replacement. Coughlin was Conole's classmate when they studied for the priesthood.


"We were even ordained to the priesthood, one right after the other," Conole said.

In his bulletin, Conole told his parishioners that because of events alleged to have occurred at St. John the Baptist, there might be questions in some people's minds about the fiscal affairs of Sacred Hearts Parish. Conole went on to outline methods of financial oversight in place at Sacred Hearts, noting a "great transparency" in financial dealings and record keeping.

"Succinctly, along with attempting to be a good shepherd, I have likewise attempted to be an equally good steward of the parish's goods and assets," Conole wrote.

"That's a good thing, an open and honest response to his parish," Anthony said of Conole's message. "It's open reporting and I see this as a positive thing for his parish."

This week's bulletin at St. James Church in Haverhill also references the LeBlanc situation, saying the "timing is unfortunate" because of the 55th anniversary celebration, and encourages people to pray for LeBlanc and church leaders.

The state attorney general and police also are investigating LeBlanc's handling of St. John the Baptist finances.

Archdiocese: LeBlanc didn't know of probe

Yesterday, archdiocese spokesman Terrence Donilon also referred to LeBlanc's message to parishioners in the June 13 bulletin as a coincidence. He said it was unlikely LeBlanc knew about the investigation at that point.

"Without giving you deep details into how we conduct our parish reviews, I think that it's a stretch to draw any conclusions," Donilon said. "It would appear he (LeBlanc) was focusing on what the Gospel teachings were that week."

Donilon said the archdiocese is focused on resolving the internal reviews regarding St. John the Baptist's finances, providing pastoral care for LeBlanc, and finding his permanent replacement — which is expected to take several weeks.

"We are committed to providing a pastor for St. John the Baptist," Donilon said, indicating the shortage of priests within the archdiocese will have no impact on finding a pastor for St. John the Baptist.

New priest arrives Sunday

LeBlanc's abrupt departure comes just before the start of St. John the Baptist's 55th anniversary celebration, which begins Saturday night with a block party on church grounds, followed by a picnic Sunday. Additional events are planned for the coming months.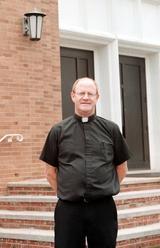 # The Rev. Keith LeBlanc



"We are a parish family, and we have to heal as a family and move forward," Anthony said. "We're invigorated, happy, and we are looking forward to this weekend's celebrations."

Anthony said Coughlin, whom the archdiocese named as temporary administrator of St. John the Baptist, will preside over the 8:30 and 10:30 a.m. Masses on Sunday.

"This is not bittersweet at all," Anthony said as his parish prepares to celebrate its founding. "I regret that Father Keith won't be there, and that Father Sweeney won't be there."

Anthony said he learned Wednesday night that Frederick Sweeney, retired pastor of St. John the Baptist, was injured in a car crash. He did not have any details about Sweeney's injuries.

"The only thing I know is another car hit his vehicle," Anthony said.

Sweeney is considered a whistle-blower in the priest sex abuse scandal of the last several years. LeBlanc replaced Sweeney, hailed by many as the priest who forced out former St. John's Rev. Ronald Paquin amid allegations of child sexual abuse.

Paquin is serving a 12- to 15-year sentence at MCI-Concord for raping a Haverhill altar boy several times. Paquin was defrocked in 2002 after admitting he was a child molester at the church in the 1980s.

Contact: mlabella@eagletribune.com