Sex Abuse Test Case in Fresno Court

By Pablo Lopez
Fresno Bee
July 11, 2010

http://www.fresnobee.com/2010/07/10/2002395/sex-abuse-test-case-in-fresno.html

Ex-altar boy alleges fraud after bishop's promise.

A Fresno courtroom will soon be the testing grounds for a new legal strategy that could help people sue the Catholic Church in cases of alleged sexual abuse by priests -- even if the statute of limitations has expired.

The Fresno County Superior Court case involves a former altar boy who says his Bakersfield parish priest told him "God wants you to do this" as he molested the teen 17 years ago.

California's statute of limitation prevents him from suing the Roman Catholic Diocese of Fresno for sexual abuse. So he is suing for fraud instead.

The lawsuit contends that Bishop John T. Steinbock broke a promise. The former altar boy says Steinbock told him he would defrock the priest who allegedly molested him.

But the accused molester, the Rev. Father Hermy Dave Ceniza, continues to work as a priest in the Philippines, according to Sacramento attorney Joseph C. George, who represents the former altar boy.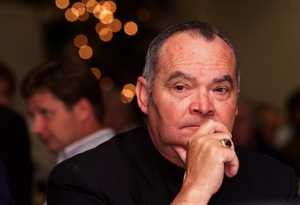 A lawsuit filed against the Roman Catholic Diocese of Fresno by a former altar boy contends that Bishop John T. Steinbock, seen here in 2002, broke a promise to defrock the priest who allegedly molested the boy. The California statute of limitation bars a lawsuit based on the abuse.



While the strategy has been tried in other states, this is the first time a California judge will rule on it.

Lawyers for the Fresno diocese, which includes Bakersfield, have countered the suit by saying it's nonsense. They say Steinbock kept his promise and got rid of Ceniza -- though they don't deny he's still a priest.

The lawsuit, they said, is just a sneaky way to get around the statute of limitations. "It's a lawyer's version of sleight of hand," said Sacramento attorney James F. Sweeney, who is defending the diocese.

But legal experts say suing for fraud is a sound strategy for sexual-abuse victims who believed -- and trusted -- church officials when they said they would get rid of pedophile priests.

"Fraud claims against the church are legitimate claims," said Douglas NeJaime, an associate professor at the Loyola Law School in Los Angeles.

Proving these cases will be difficult, however, he said. Success will hinge in part on whether the plaintiffs can prove that church officials intended to deceive.

Under state law, the deadline to sue the church or any other organization that knowingly employed molesters is the plaintiff's 26th birthday or within three years of discovering emotional problems linked to childhood abuse -- whichever is later.

The state's statute allows a person to sue for fraud within three years of the discovery of the fraud.

George said his client's lawsuits meets the legal requirement because he found out he had been deceived in April 2009. "The public, and especially Catholics, want to know the truth," George said. "The diocese's arguments are just an attempt to hide it."

Joseph Doe

The Fresno lawsuit is one of two that George has filed in California using the fraud strategy. In the other, he has sued the Archdiocese of Los Angeles. He said he plans a third fraud lawsuit soon.

On Aug. 5, Fresno County Superior Court Judge Adolfo Corona is scheduled to take the first stab at the issue in California. The judge is expected to consider the church's request to have the case dismissed.

In court papers, the former altar boy is referred to as Joseph Doe because of laws that protect the identity of alleged sexual-abuse victims.

In an interview with The Bee, he requested anonymity, saying he hasn't told his family about the allegations. They are devout Catholics.

"I know they are going to find out one day," he said. "I'm just not ready to tell them because it's going to hurt them and test their beliefs."

Joseph Doe is a Marine veteran who is an unmarried 36-year-old college student in Southern California. He says he is not gay, but that the alleged molestation has confused him about his sexuality.