Special Olympics Suspends Former Superior Priest Because of Past Abuse Claims

By Brandon Stahl
Duluth News Tribune
July 14, 2010

http://www.duluthnewstribune.com/event/article/id/173677/

A former Superior Diocese priest who was the subject of a multi-million dollar settlement in a sex abuse case has been indefinitely suspended from working with the Special Olympics.

Tom Ericksen, who the News Tribune reported last month was accused of sexually assaulting two boys in the 1980s in Winter, Wis., while a priest there, volunteered for the past three years with the Special Olympics in Kansas City, Mo., according to Jeremie Ballinger, the organization's director for that city.

When informed of the allegations against Ericksen, Ballinger said the Special Olympics would suspend the former priest as part of its policy.

"Anyone who has been alleged to have committed, or is under investigation for committing a crime of a sexual nature will be suspended indefinitely from participating in any (Special Olympics of Missouri) activity, pending resolution of that allegation or investigation," Ballinger said.

Ericksen did not return a call seeking comment.

Ericksen began his time with the Special Olympics as a day-of volunteer and worked his way up to being a member of the games management team, which helps to organize events such as basketball and softball tournaments and track meets, Ballinger said.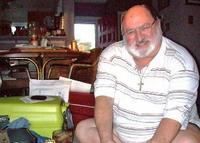 Tom Ericksen, former Superior diocese priest, from his MySpace page.



Before allowing Ericksen to be on the management team, a national background search was conducted on him that showed no criminal charges, Ballinger said. Only one complaint was lodged against him by another volunteer for using what Ballinger described as "off-color" comments during an event, but no complaints have been filed in regard to behavior with athletes, Ballinger said.

"After that, he's been really good with the athletes," Ballinger said.

Ericksen left the Superior Diocese in 1983 and moved to Minnesota and later Kansas City, according to resumes and profile information he listed on social and professional networking websites.

In 1989, Ericksen and the Superior Diocese settled an abuse claim for nearly $3 million with Paul and James Eck, who said they were molested by Ericksen when they were his parishioners.

Both men have asked the Sawyer County District Attorney Tom Van Roy to investigate and prosecute Ericksen, but Paul Eck said on Monday that he has yet to receive a response from Roy.