Trusted, Beloved, Accused

By Tim Funk
Charlotte Observer
July 23, 2010

http://www.charlotteobserver.com/2010/07/23/1578318/trusted-beloved-accused.html

Tears of sadness flowed that Sunday morning in June 1986. After nine years, parishioners at Charlotte's Our Lady of the Assumption Catholic Church were saying goodbye to the Rev. Joseph Kelleher - better known to them as "Father Joe," their pastor.

In the months leading up to this farewell Mass, many members of the church had written angry, frustrated letters to the bishop, protesting the reassignment of this charismatic priest with the Irish brogue to a parish in Asheville.

Kelleher, then 58, had especially endeared himself to the church's youth, many of whom called him their "second father." "He's not just my pastor, he's my best friend," one church employee and youth group alumnus told the Observer that day.

Popular, even beloved - and particularly close to young people. That's the portrait that emerges, from interviews and past newspaper articles, of the N.C. priest who, it is now alleged, is part of a child sex abuse scandal that has rocked the Roman Catholic Church worldwide. The headlines have rallied many of Kelleher's former parishioners, who are standing by him and saying the pastor they knew could never have done what he's being accused of.

This month, more than two decades after that emotional Charlotte send-off for Kelleher, now 82, one former member of his flock at Our Lady of the Assumption has come forward to charge that the priest sexually abused him in the church rectory in January 1981. According to Charlotte-Mecklenburg Police, who are investigating but have made no arrest in the case, the alleged victim was 13 years old at the time.

The Charlotte allegation came barely a week after Kelleher was arrested by Albemarle police on a charge that he abused a 14-year-old boy in 1977 when he was pastor of Our Lady of the Annunciation in Albemarle. He's expected to make his first court appearance next month.

Kelleher, who has been serving in recent years as chaplain at Bishop McGuiness High School in Kernersville, was put on administrative leave by the Diocese of Charlotte, which is conducting its own investigation. Being on leave means that Kelleher is not permitted, for the first time since his 1953 ordination, to publicly celebrate Mass, hear confessions or wear priestly garb in public.

Outpouring of support

The accusations have led not only to investigations, headlines and an arrest. They've also caused an outpouring of support for Kelleher - much of it from Catholics who knew him when they were young.

In vigils and on the Internet, they say they never experienced or heard of any inappropriate behavior by Kelleher when they got to know him as altar boys or on beach trips or because the priest was close to their families.

More than 1,100 people have joined a Facebook site called "Justice for Father Kelleher," with a logo that includes shamrocks - a nod to Kelleher's Irish roots.

"One of the amazing things about Father Kelleher is that he lived his faith very openly," Sandy Johnson of Charlotte, who posted her support on the Facebook site, told the Observer. Among her stories: She and husband Harry, who were married by Kelleher, bought him a wool Irishman's sweater as a gift on their honeymoon. In his thank-you note, the priest told the couple he had given it to a man who needed warm clothing.

"I don't believe (the accusations)," Johnson said.

Seth Langson, a Charlotte attorney representing the alleged victim in the Albemarle case, said his client would have no comment now in the criminal case.

But, in the wake of the Facebook site and Kelleher vigils in Winston-Salem and Charlotte, Langson said he hoped the priest's supporters "would keep an open mind. And pray for any victims as well as the priest. And hope the truth comes out, whatever it is."

Langson declined to comment on the particulars of the Kelleher case, but did say that, generally, "I think it's obvious the more victims who come forward, the more credible the allegation."

Kelleher's attorney, Charles Brown of Albemarle, could not be reached for comment. And Kelleher has told the Observer that Bishop Peter Jugis, who heads the 46-county Charlotte diocese, has asked him not to comment.

From monastery to N.C.

Michael Joseph Kelleher was born in County Cork, Ireland, and, for much of the 1960s and 1970s, was considered the Charlotte expert on all things Irish. In 1978, he treated Observer readers to musings upon his return from a trip back to the Emerald Isle.

Another part of his biography also made him something of a curiosity in a Charlotte that was still a mostly Protestant place. That is, he entered a monastery at 19 and spent the next 18 years as a Trappist monk, first in Ireland, then in New Zealand. He rose at 2 a.m. to pray, farm and keep silent, then went to bed at 7 p.m.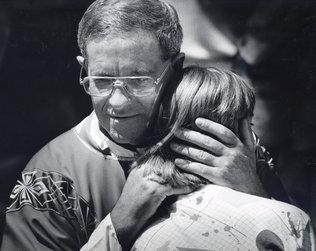 The Rev. Joseph Kelleher hugs a Charlotte parishioner in 1986 after his farewell Mass.
Photo by CHARLOTTE OBSERVER


In 1965, Kelleher decided he could best serve as a parish priest. Pope Paul VI released him from his monastic vows and he headed for the United States. He arrived in North Carolina in 1966, and has never left, serving in 12 parishes and at Bishop McGuiness High School.

Charlotte attorney Bob Hull, now 56, met Kelleher when the priest came to Dilworth's St. Patrick Cathedral, where he served from 1966 to 1968.

"He was funny, he was loud, he was boisterous," said Hull, who was about 12 at the time. "If people weren't singing loud enough at Mass, he'd get the organist to stop and start again. Just a lovable man. And he could be a grumpy man."

Kelleher named the young Hull "head altar boy" and the two spent a lot of time together. Nothing remotely inappropriate ever happened, Hull said.

"I'd put the altar boy schedule together, get on my bike, ride over to the church, typically on a Friday or Saturday," said Hull. "Oftentimes, after delivering the schedule, I'd hang around, have dinner at the rectory, just me and him and maybe a cook."

After dinner, Hull said, he and Kelleher would sometimes go - with his parents' permission - to a movie at the Manor Theatre or take in a baseball game with the old Charlotte Hornets.

"Absolutely nothing untoward (occurred)," Hull said, "and I never heard of anything happening (to anybody else)."

Hull said he never considered it strange that he'd be spending a Friday or Saturday night out with a priest.

"Did it occur to me then that that was unusual? The answer was no. And it wasn't unusual," he said.

If he had a 12-year-old child now, would he let the child do that? "Certainly, if I knew the priest as well as my parents knew Father Kelleher."

Years later, Kelleher presided at Hull's wedding to his wife, Tammy.

Kelleher returned to Charlotte in 1977, to be pastor at Our Lady of the Assumption, and quickly came to know its 650 families. Again, he grew close to the church's young people.

"He greets parishioners by name when he administers Communion," reported the Observer during his time at the parish, then at Independence Boulevard and The Plaza. "He knows every child at Assumption's grammar school, lunches weekly with students at Charlotte Catholic High School and says Mass for the football team before every game. The joke-cracking, poker-playing Irishman has endeared himself especially to church youth, many of whom call him their 'second father.'"

On Thursday, Bishop Jugis issued this statement:

"Father Kelleher, as well as all victims of sexual abuse, are in my prayers."

Contact: tfunk@charlotteobserver.com