Pittsburgh Diocese Sued over Alleged Abuse Victim's Suicide

ThePittsburghChannel
July 29, 2010

http://www.thepittsburghchannel.com/allegheny/24434865/detail.html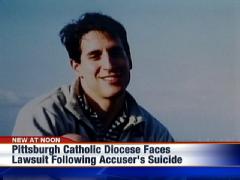 Michael Unglo



PITTSBURGH -- The estate of a man who claimed he was sexually abused by a priest announced a lawsuit Thursday against the Roman Catholic Diocese of Pittsburgh.

The suit alleges 39-year-old Michael Unglo committed suicide in May, just a few months after the diocese stopped paying for his mental health treatments following two other attempts to take his own life.

Attorney Alan Perer, representing the family, called it "a case of the ultimate price for being abused and then being re-victimized and abandoned by the Catholic Diocese."

Keith Jones is following this story today in Pittsburgh. Refresh this page later for updates and watch his report tonight on Channel 4 Action News at 5 p.m.

According to the lawsuit, Unglo was a student and altar boy at All Saints in Etna in the 1980s when he was molested by Richard Dorsch, who was later convicted of molesting another boy and served jail time.

Perer said the sexual abuse of Unglo happened in the sacristy, in the confessional and on the Braille Trail in North Park.

Bishop David Zubik promised to do "whatever it takes to right the wrong" when he heard about Unglo's story in late 2008, Perer said.

The family said Unglo had been an honor student at Penn and worked in advertising in New York. Mental health professionals who treated him connected the man's issues to his childhood abuse, according to Perer.

"He expressed that he was in great pain, that he didn't understand why all of this was happening to him, why the diocese was, as Alan said, victimizing him again," said Unglo's brother, Sam.

Perer said that Dorsch, who has been removed from ministry and now lives in the Greensburg area, is still getting a monthly stipend from the diocese.

The lawsuit alleges negligence by the diocese and Zubik, and it seeks $50,000 in damages for factors including pain and suffering, medical expenses, future lost income and the family's loss.

A diocesan spokesman will give a media update at 2:15 p.m. in downtown Pittsburgh. Refresh this page later for updates.

In a written statement, the diocese said it learned about the Unglo lawsuit through the media but had not yet been formally notified that the suit has been filed.

Here is the statement from the diocese:

"Mr. Unglo alleged that he had been sexually abused by a priest of the Diocese of Pittsburgh as a young boy between 1982 and 1985. The accused, Richard J. Dorsch, had already been removed from ministry after a previous allegation brought by a different individual. He was subsequently convicted and served time in prison as a result of that previous allegation. Since that time, Dorsch cannot function or represent himself as a priest.

"Without any legal requirement to do so, the Diocese of Pittsburgh readily provided hundreds of thousands of dollars for counseling and residential treatment for Mr. Unglo in recent years and continued to do so up to the time of his tragic death. The Diocese of Pittsburgh denies any negligence in this matter and cannot accept that any action of the Diocese contributed to or was responsible for his death. The facts of the case will bear this out.

"Suicide is a complex tragedy that can deeply affect surviving loved ones. We continue to offer our sympathy, prayers and support to all touched by this tragedy."