Diocese Sued after Priest's Alleged Victim Commits Suicide

By Dennis B. Roddy
Pittsburgh Post-Gazette
July 30, 2010

http://www.post-gazette.com/pg/10210/1076230-100.stm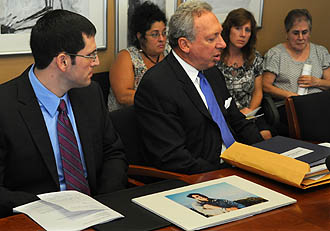 Sam Unglo, left, listens to attorney Alan H. Perer, who is representing his family, which is suing the Diocese of Pittsburgh in a case related to Michael R. Unglo's suicide.



The family of a former Etna man said today that he committed suicide earlier this year after the Diocese of Pittsburgh reneged on a promise to continue psychiatric treatment he needed to overcome the trauma of sexual abuse by a priest 25 years ago.

Michael R. Unglo, 39, took his own life May 4 while a patient at at Austen Riggs Hospital in Massachussets.

"He paid the ultimate price for being sexually abused as a child by a priest," said Alan H. Perer, who filed suit on behalf of the Unglo estate. The Diocese said in a statement that it had not reneged on an agreement and that financial support continued up to the time of Mr. Unglo's death.

Mr. Perer said the Diocese of Pittsburgh and Bishop David Zubik verbally agreed to cover the cost of psychiatric treatment after he experienced flashbacks of being sexually molested by the Rev. Richard Dorsch.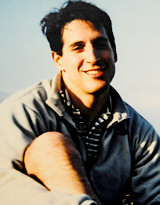 Michael R. Unglo



Mr. Dorsch was removed from ministry by the Diocese after his 1994 conviction in another molestation case. He has never been criminally charged with molesting Mr. Unglo, although Mr. Perer said the diocese had accepted his claims as true but "revictimized" him by withdrawing funds for treatment.

"In essence, they put him on life support," Mr. Perer said of the diocese. "They funded treatment for him. But, unfortunately they made a decision this year to pull the plug on his treatment and abandon him."

The Diocese said in a statement that "without any legal requirement to do so, the Diocese of Pittsburgh readily provided hundreds of thousands of dollars for counseling and residential treatment for Mr. Unglo in recent years and continued to do so up to the time of his tragic death. The Diocese of Pittsburgh denies any negligence in this matter and cannot accept that any action of the Diocese contributed to or was responsible for his death. The facts of the case will bear this out.

"Suicide is a complex tragedy that can deeply affect surviving loved ones. We continue to offer our sympathy, prayers and support to all touched by this tragedy."

Mr. Dorsch, who now lives in Greensburg, Westmoreland County, could not be reached.

With Mr. Unglo's mother, sisters and two brothers flanking him, Mr. Perer this morning said Bishop Zubik had promised "to do whatever it takes" to help Mr. Unglo recover from what psychiatrists diagnosed as a "complex post-traumatic stress disorder" which surfaced as flashbacks in 2008.

Mr. Perer said no written agreement had been produced, but that the diocese spent an estimated $300,000 for Michael Unglo's hospitalizations. He said that the diocese at the end of last year cut off financing for Mr. Unglo's treatments, all the while continuing to pay a living stipend and health insurance for Mr. Dorsch.

"There was money to fund a convicted pedophile defrocked priest and yet not enough money to continue to provide for a victim of that priest who ultimately killed himself," Mr. Perer said.

Dennis B. Roddy: droddy@post-gazette.com or 412-263-1965.