Victim of Sexual Abuse Pushing for Jail Time for Priest

By Nate Morabito
The TriCities
July 31, 2010

http://www2.tricities.com/news/2010/jul/30/victim-sexual-abuse-pushing-jail-time-priest-ar-355978/

[with video]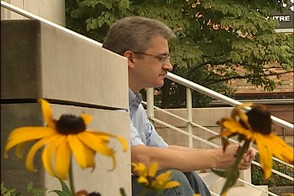 Two days after a local priest received a sentence of probation in return for a guilty plea, his victim details a new sexual abuse accusation; one that he calls the creepiest yet.



Although a former Greene County priest did not receive any time in jail for sexually abusing a boy more than 30 years ago, his now grown-up victim says the priest's legal battle is not over yet.

Two days ago, former Catholic priest William Casey pleaded guilty to crimes against nature in North Carolina. In return for Casey's guilty plea, a judge sentenced the man to 24 months of supervised probation. However, his victim, Warren Tucker, says jail time will be in Casey's future.

"He won't get so lucky in the other jurisdictions I believe," Tucker said.

Tucker says more than 30 years ago, Casey took him on a trip to North Carolina where he abused the then young boy. Although that North Carolina case is now over, Tucker is still pushing for additional charges in three other parts of the Tri-Cities region.

The now 44 year-old man, who currently lives in Indiana, was back in the Tri-Cities Friday to hand over a threatening letter he recently received to the Sullivan County District Attorney's Office. Sullivan County is just one place where he's already filed a criminal complaint. He's done the same in Greene County and Scott County, Virginia.

According to Tucker, when he was between the ages of 10 and 15 years-old, Casey sexually abused him at the former priest's Greene County home and inside the former St. Dominic's Church Rectory in Kingsport.

"The future, I hope, will be swift justice for Mr. Casey and that means prison time of course," Tucker said.

Tucker's latest accusation includes a claim that Casey sexually abused him inside Natural Tunnel in Scott County. Scott County Commonwealth Attorney Marcus McClung says he is investigating Tucker's claim.

"The Natural Tunnel I have to say takes the cake," Tucker said. "You go inside a dark, creepy tunnel with flashlights and walk through it with your priest."

Although Scott County is investigating the accusation, charges in Greene County do not appear likely.

"The statute of limitations would have likely run out a long time ago," 3rd District Attorney General Berkeley Bell said. "We're not looking into it."

The Diocese of Knoxville removed Casey from the priesthood in April after he admitted to crossing the line with Tucker. The former priest did not return our phone call Friday.

His accuser says Wednesday's plea was what he considers "bittersweet justice."

"I think he's a broken down, tired old man that probably has a lot of other victims out there," Tucker said. "I'm sorry that none of them have come forward yet, but I want them to."