Second Man Accuses Seymour Priest of Sexual Abuse

By Quannah Leonard
Waterbury Republican-American
August 6, 2010

http://www.rep-am.com/articles/2010/08/06/news/local/499399.txt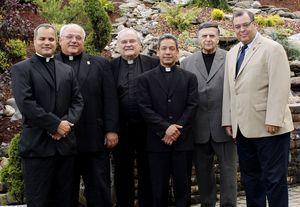 The Rev. Stephen Bzdyra, second from left, is pictured in June with other priests and a deacon at a dinner to celebrate the 100th year of St. Margaret's Church of Waterbury. Christopher Massa/RA



A second man has come forward alleging that he was sexually abused by a Roman Catholic priest who was suspended last month from his role as pastor of a Seymour parish.

The man, who lives in Watertown but has chosen not to reveal his identity, filed the lawsuit Thursday in Waterbury Superior Court against the Rev. Stephen Bzdyra, formerly of St. Augustine Church, 35 Washington Ave. in Seymour.

The alleged abuse occurred when the man was 7 or 8 years old and a second-grader at St. Hedwig's School, 32 Golden Hill St., Naugatuck, according to his lawyer, Joel T. Faxon of New Haven, in a release.

It was a prolonged incident that took place in the school basement in the late '70s to early '80s, Faxon said.