Clergy Abuse in Delaware: "Horrific" Rape Allegations Surface in Diocese Case

By Esteban Parra
The News Journal
August 7 2010

http://www.delawareonline.com/article/20100807/NEWS01/8070331/-Horrific--allegations-in-diocese-case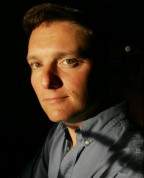 Barry Lamb is among reported abuse victims.



In a scene described as "horrific," new papers filed in bankruptcy court allege that a group of men -- including two Catholic priests -- raped a young boy more than 20 years ago in a U.S. 13 motel room near Wilmington.

Barry Lamb, who is among reported victims of abuse by priests, described the attack on Kevin Heaney in documents filed Thursday in the Catholic Diocese of Wilmington's bankruptcy case. Heaney later committed suicide.

The priest who is accused of raping Heaney during the motel incident -- the Rev. Edward Dudzinski -- was removed from the ministry and was among 20 diocesan priests identified by the late Bishop Michael Saltarelli as pedophiles.

The documents were filed by the Neuberger and Jacob & Crumplar law firms, both of Wilmington. Those firms, which represent several alleged victims of priest abuse, will testify at a bankruptcy hearing next week.

The diocese is trying to prevent lawsuits filed by Lamb and other alleged abuse victims from going to trial later this year in state courts.

Diocese attorneys could not be reached for comment Friday and an attorney for Dudzinski could not be located.

"The disclosures are horrific," said David Clohessy, executive director of the Survivors Network of Those Abused by Priests. "We're just grateful that at least the dozens and dozens of Delaware victims will have some chance to tell of their horror in the courtroom."

Clohessy said the hearing will be the first time that victims of priest sex abuse have been allowed to testify in any Catholic diocese bankruptcy case.

"It's perhaps one of the most healing experiences for victims and it's crucial if the truth about the cover-ups is ever going to be revealed," he said, adding that it was "inconceivable" that no other church employee knew about the crimes.

Lamb claims that when he was 15, Dudzinski sexually abused him during summer trips to the Busch Gardens amusement park near Williamsburg, Va., according to a Superior Court lawsuit.

Heaney's parents, William J. and Othell Heaney of Brandywine Hundred, filed the suit last year for the wrongful death of their son and are seeking damages. In their suit, the Heaneys claim their son took his life when he was 19 in 1987 because he had been sexually abused for three years by Dudzinski.

The younger Heaney had been in Dudzinski's religion class at St. Mary Magdalen elementary school in Brandywine Hundred.

Heaney and another boy were sexually assaulted by Dudzinski and other men at the motel south of Wilmington in 1984, according to Lamb's Nov. 5 deposition. Lamb also was taken to the hotel to be raped, he alleges.

"Father Ed and the other men were taking turns with the boys," Lamb, who lives in Brandywine Hundred, said in his deposition. The other men included the late Rev. Timothy Mullen, a former headmaster at Claymont's Archmere Academy.

He also claims the men cheered as Dudzinski raped Heaney.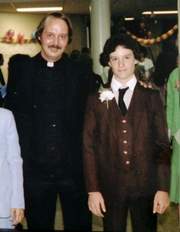 Barry Lamb (right) was 13 when he graduated from St. Mary Magdalen School in 1983 and posed for this picture with Rev. Edward Dudzinski, a priest at St. Mary Magdalen Parish. (Photo provided)



"Sort of like cheer him on," Lamb said. "They would talk nasty and like ... I'm a little embarrassed. Like 'get him, get him.' "

Stephen J. Neuberger, an attorney for the abuse victims, declined to comment until after Thursday's hearing.

But in court papers, victim attorneys claim the diocese is "desperately" trying to prevent disclosure of such evidence in the state court lawsuits.

Other documents filed with the bankruptcy court suggest that government officials helped diocesan leaders who were afraid that the late Rev. Walter D. Power, also identified by the diocese in 2006 as a pedophile, might be arrested on child sexual abuse charges if he returned to Delaware from Maryland.

The documents include a 1970 memo to then-Bishop Thomas Mardaga from his second-in-command, Monsignor Paul Taggart. It suggests Taggart had asked a Catholic municipal court judge, Alfred Fraczkowski, to check whether Delaware authorities had an open warrant for Power's arrest on morals charges dating to the 1950s.

"He personally ran the check-out and reported ... that according to his information no such warrant does or did exist," Taggart wrote.

According to the memo, Fraczkowski also claimed that Delaware authorities probably would not take action against Power for abuse that occurred in the 1950s because the alleged victims were no longer minors in 1970 and "would hardly open the issue themselves."

Fraczkowski, who was honored by Pope Paul VI for his service to the Catholic Church, did not return a telephone message to the Associated Press Friday.

Taggart also wrote that after at least one family approached state police in the 1950s about filing charges against Power, who was then assigned to St. Helena parish in Wilmington. A state trooper alerted Bishop Hubert Cartwright and suggested that unless Power was immediately transferred out of state, he would be served with a warrant.

"Bp. Cartwright went immediately to St. Helena's and ordered Fr. Power out of state," Taggart wrote. "He left at once."

Information from the Associated Press was used in this story. Contact Esteban Parra at 324-2299 or eparra@delawareonline.com