Bishop Resignations: Timeline of Events

Irish Times
August 11 2010

http://www.irishtimes.com/newspaper/breaking/2010/0811/breaking57.html?via=rel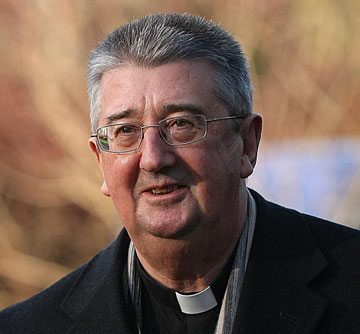 Archbishop Diarmuid Martin: wrote to priests in Dublin archdiocese informing them Bishops Eamonn Walsh and Raymond Field will remain as auxiliaries.



Timeline of events leading up to today's news that Pope Benedict has rejected the resignations of Auxiliary Bishops of Dublin Eamonn Walsh and Raymond Field.

November 26th, 2009: Murphy Report published. It finds child sexual abuse was covered up by the Dublin archdiocese and other church authorities for almost 30 years. State authorities facilitated this cover-up by not fulfilling their responsibilities to ensure that the law was applied equally to all, and by allowing church institutions to be beyond the law, it says.

November 27th, 2009: Taoiseach Brian Cowen says it is up to religious organisations and their members to determine the "appropriateness" of individuals to hold ecclesiastical office. Fine Gael leader Enda Kenny calls on all bishops implicated in the report to resign immediately.

December 1st, 2009: Speaking on RTE's Prime Time programme, Archbishop Diarmuid Martin says he is writing to the auxiliary bishops who served in Dublin and who were named in the Dublin diocesan report.

December 11th, 2009: Bishop Ray Field is asked why he delayed in reporting a complaint of abuse. He said he didn't report it sooner because he didn't know there was child sex abuse involved until he "went to see the police myself about it and got the full information". The word "priest" was used instead of "police" in the report.

December 17th, 2009: Bishop Eamonn Walsh says he will step down as an auxiliary bishop of Dublin if he becomes a "block on the gospel". Dr Walsh also stressed he had done nothing wrong in his handling of clerical child sex abuse cases and his resignation would be an "injustice".

December 21st, 2009: Clerical child sex abuse victim Marie Collins repeats her call for Dr Walsh and Dr Field to resign.

December 24th, 2009: Dr Walsh and Dr Field tender their resignations after coming under intense pressure because they had served as bishops during the period investigated by the Murphy Commission into clerical child sex abuse in the Archdiocese of Dublin.

February 8th, 2010: A letter is sent to Pope Benedict by abuse victims in Dublin calling on him to accept "without any further delay" the offers of resignation from the two auxiliary bishops.

February 15th, 2010: A top Vatican official tells Irish bishops in Rome for talks with the pope on the Irish Church's handling of child abuse that clergy who had sinned must admit blame for "abominable acts".

August 10th, 2010: In a letter to priests of the Dublin archdiocese, Archbishop Diarmuid Martin says Bishops Eamonn Walsh and Raymond Field will remain as auxiliary bishops.