Santa Rosa Bishop: No Comment on Irish Pedophile Priest Linked to North Coast in "80s

By Guy Kovner
Press Democrat
August 13 2010

http://www.pressdemocrat.com/article/20100812/ARTICLES/100819802?Title=Santa-Rosa-bishop-No-comment-on-Irish-pedophile-priest-linked-to-North-Coast-in-80s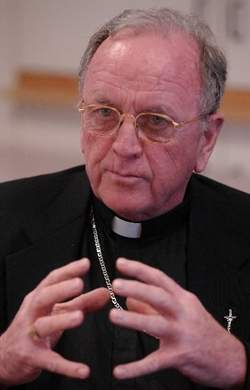 Bishop Daniel Walsh



Santa Rosa Bishop Daniel Walsh declined to comment Thursday on the case of a former Irish priest who was transferred to the local diocese three decades ago, shortly after being designated as a pedophile by church officials.

Patrick Joseph McCabe, 74, served at churches in Eureka and Guerneville for about three years in the 1980s. He is now in jail in Alameda County, facing extradition to Ireland to face charges of sexually assaulting six boys in Dublin between 1973 and 1981.

McCabe's case ties the Santa Rosa Diocese, where the sex abuse scandal erupted in 1994, to the revelations of crime and coverup that rocked Ireland in 2009 and spread through Europe this year, even reaching the Vatican.

McCabe's transfer here in 1983 was arranged by former Dublin Archbishop Dermot Ryan and former Santa Rosa Bishop Mark Hurley, according to a detailed report by the Dublin Archdiocese released last year.

Hurley, who died in 2001, admitted shielding abusive priests from prosecution in a 1995 legal deposition.

In 1985, Hurley removed McCabe from St. Bernard Parish in Eureka after parents complained of the priest's inappropriate behavior with children.

Diocese officials said McCabe was never accused of molesting children here.