Clergy Abuse in Delaware: Victims Testify of Hurt, Betrayal

By Sean O'Sullivan
News Journal
August 13 2010

http://www.delawareonline.com/article/20100813/NEWS01/8130338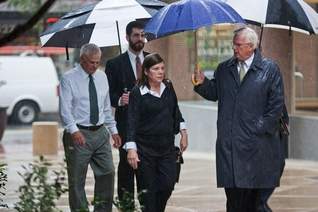 Lawyer Steve Neuberger (center-back) arrives at U.S. Bankruptcy Court with Mary Dougherty. Doughtery, Michael Schulte (left) and Michael Sowden testified in the bankruptcy proceedings Thursday in Wilmington. (The News Journal/ROBERT CRAIG)



Six men and one woman -- all older, mostly graying and looking like grandparents -- took turns on a U.S. Bankruptcy Court witness stand Thursday to recall their childhoods and relive the most shattering and traumatic incidents of their lives.

Each told Judge Christopher Sontchi how a priest -- whom they considered to be like God, or certainly God's representative on Earth -- betrayed their faith and trust by molesting them.

One said it happened when he was 10 and a priest invited him up to his room to take a nap after an early morning Mass.

Another said he was lured by ice cream.

Mary Dougherty said she was attacked at the beach on a youth-group outing by a priest who told her, "This is power."

Another said his attacker essentially romanced him, taking him on a trip to see a New York show before molesting him in a hotel room -- while other boys slept nearby.

"I was frozen, I was scared," said John M. Vai, recalling the first of many assaults against him.

Two of the men are still so traumatized by the assaults they suffered 40 years ago that they could not bear to have their names made public and identified themselves only as "John Doe."

"It's destroyed my life," John Doe 3 said. "When my own son puts his arm around me, I cringe.

Imagine that," he said, tearing up and shaking his head.

Attorneys and others said Sontchi's decision to hear directly from victims in the bankruptcy proceedings for the Catholic Diocese of Wilmington is unprecedented. Few ever get a chance to testify in court, according to advocates, because so many cases are tossed out or resolved before.

Before Thursday, no victim had ever testified at any diocese bankruptcy proceeding across the country, they said.

Sontchi decided to hear from a small group of the 157 people who have claims pending against the diocese, one of its parishes or a religious order, as he considers whether to extend a stay on some 81 civil lawsuits against the parishes, several of which are on track to go to trial in the fall in state court. Should those cases go forward, the parishes could face damage awards in the hundreds of thousands, if not millions, of dollars. And any damages awarded after a trial would likely affect the amount other victims would seek in a settlement.

Attorneys for the diocese argue that the delay is needed to allow for two more scheduled settlement meetings at the end of the month and trials would be a distraction and potentially counterproductive.

Sontchi said he would hear once more from the attorneys this morning and then would make a ruling from the bench on whether the stay on the parish trials in state court would be extended or lifted.

Bishop eager to settle

Among those in the crowd was Wilmington Bishop W. Francis Malooly, who said he came to hear the victims' testimony because he has not been able to meet with many victims personally due to the ongoing litigation.

He described what he heard as "horrible... criminal" and that no amount of money could compensate the victims for what they went through. He said his goal remains the same -- to be fair and just to all victims who suffered abuse at the hands of a priest.

At the same time, he said, he also still has an obligation to the employees of the diocese and the mission of the church.

Malooly said he would like to see the case resolved "tomorrow" with a settlement. He declined to specify what would need to happen to achieve a settlement, saying he could not discuss what has been said in mediation talks.

"I'm surprised at the slowness of the legal system. ... I'd love to move faster," he said. "But we need cooperation."

On Thursday, all seven victims who testified said they wanted to see their trials go forward and do not trust the diocese to negotiate in good faith at settlement talks. An attorney representing victim Joseph Curry said an October trial date is the only thing that is keeping Curry sane.

The courtroom where Sontchi heard testimony Thursday was filled to capacity in the morning, so court officials opened a second courtroom where people could watch proceedings via closed-circuit video.

And what they heard, from 9:30 a.m. to 5 p.m., was far from typical for a bankruptcy proceeding.

On the stand, victim Michael Schulte expressed guilt that he did not do more in the late 1960s to sound the alarm and stop the Rev. Francis DeLuca from molesting other boys.

Victim Michael Sowden said he can remember only one assault and one attempted assault, though DeLuca admitted in a sworn deposition to molesting Sowden at least 10 times.

"The closer we got, the stranger the relationship got," Vai said of his relationship with DeLuca. "He was courting me ... and the relationship got way out of hand, to a hand in my crotch, to a kiss on the ear ... groping, humping ... clothes off, oral sex, anal sex." And all the while, Vai wondered if it was supposed to be "some kind of great honor" because his assailant was a priest.

Adult lives affected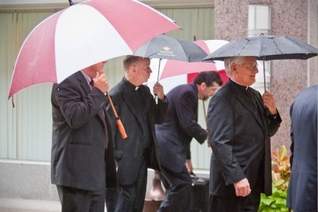 Msgr. J. Thomas Cini (right) and Bishop W. Francis Malooly arrive at U.S. Bankruptcy Court on Thursday. Malooly described what he heard as "horrible... criminal." (The News Journal/ROBERT CRAIG)



Almost all said what happened to them adversely affected their ability to trust and have relationships as adults. Sowden said he lives alone and hates to be touched to this day. "I've had to tell women, 'Please keep your hands to yourself,' " he said.

When Dougherty attempted to tell her mom in 1966 that the Rev. Leonard J. Mackiewicz, who died in 1994, attacked her on the beach and sexually assaulted her, her mother "smacked me and said no priest would ever do that," she said.

Though her attorney said her father now supports her, she said other devout family members consider her to be a part of a conspiracy to bring down the Catholic Church and feel she has "tainted the family name."

Schulte said when he reported DeLuca, the diocese sent a priest to investigate who then told him he was forbidden to tell anyone else and implied he would be banished from the church if he did not comply.

When he found out 30 years later that DeLuca was still a priest -- and that the priest who forbade him from speaking was also accused of pedophilia -- Schulte said, he went to church officials again but charges they set him up to silence him. Schulte said that in what he thought was supposed to be a counselling session, a woman asked him what he would do if he found out DeLuca was still abusing children.

"I'd put a cap in him," he said he replied.

Schulte said the woman then said she had to -- and later did -- report him to Wilmington police. But he said they did not call police about DeLuca.

DeLuca was convicted in New York in 2007 of abusing a child and was sentenced to 60 days in prison. He was defrocked by the church in August 2008. According to court testimony Thursday, he is ill.

John Doe 1 reveals identity

In one of the most dramatic moments of the day, the man who had been known as John Doe 1 decided to reveal who he was in the middle of his testimony, identifying himself to the court and the public as Felix Flanigan.



Francis DeLuca admitted in a sworn deposition to molesting one boy 10 times.



Many in the court erupted with applause at the admission and it took a few moments for Sontchi to restore order, reminding the crowd that the courtroom was not the place for such outbursts.

Outside court, Flanigan said the moment was "cathartic" and he was glad he finally came forward and "said what needed to be said for years." The 60-year-old testified that when he was a child, DeLuca invited him over to help count church receipts, then told him that it was so late that his mother had said he should spend the night at the rectory. And later, in bed, Flanigan said, he awoke to feel something at his back: "[DeLuca] then reached around and grabbed me and pretty much screwed me up for the rest of my life."

Every one of the witnesses said they were looking forward to their day in court. "I want to put [DeLuca] through what I've been put through. The stress, the tension," John Doe 4 said. Dougherty said a trial represents "validation, justice."

And all said it was a setback when their trials were called off this past October and don't know if they can take another delay. "I have to steel up and put my helmet on and tell the full story," Vai said. "I don't know if I can come up from drowning for a third time." He said he needed to get his story out, to face his accuser and hold people accountable. "I want someone to tell me, 'I screwed up.' "

Flanigan said all the delays "seems like a charade to me."

"I've got to get closure, got to get the train back on the tracks," Schulte said. "I'm 63 years old. I need to put this behind me."

Contact Sean O'Sullivan at 324-2777 or sosullivan@delawareonline.com