Belleville Diocese to Discuss Closing Parishes; Braxton Cites Priest Shortage, Economy

By George Pawlaczyk
Belleville News-Democrat
August 13 2010

http://www.bnd.com/2010/08/13/1362633/diocese-to-discuss-closing-parishes.html

A rare and perhaps unprecedented look at Bishop Edward Braxton's initial thoughts about a crucial matter -- whether to cut parishes within the Catholic Diocese of Belleville to meet the challenges of a priest shortage and the struggling economy -- occurred with an accidental computer click.

On Tuesday, Braxton's administrative assistant mistakenly sent all priests and deacons a preliminary eight-page reorganization document concerning the key issue that some of the diocese's 120 parishes may be consolidated into larger parishes.

In a letter to parish officials taking "full responsibility" for the glitch, the assistant noted that Braxton had actually requested that the unfinished document be sent only to members of the Presbyteral Council, a priests' panel that helps set overall policy.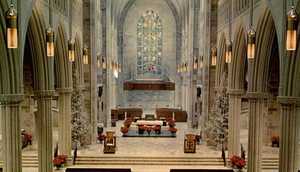 The interior of St. Peter's Cathedral in Belleville, the seat of the Belleville Diocese. - For BND



While Braxton ordered all who mistakenly received the e-mail to "destroy these very preliminary documents immediately" and not to discuss them, the News-Democrat obtained a copy.

The release date for the plan was listed as Sept. 27. In the proposal, Braxton urged that instead of waiting until 2012 as earlier planned to launch discussions about a "long-range plan dealing with reconfiguring our parishes in the light of present realities and future needs," such talks, which would include parishioners, should begin this year.

"This plan would include merging parishes and reducing the number of parishes based on the current and projected size of our faith communities," Braxton wrote. He also stated that the age and health and "declining numbers of our priests" convinced him that the time to act on reorganization is now.

Because of the premature publicity, Braxton cautioned that after meeting with his advisers: "It is possible that this parish planning process will not take place at all. If it does, however, it will be lengthy, carefully executed and will allow for considerable consultation with priests, deacons, religious (leaders) and laity before any decisions are made."

Braxton's document stated that the diocese has only 65 priests in ministry and that eight of these priests are older than 70 and some are in poor health. This does not count 16 temporarily assigned priests from outside the United States, most of whom are from Africa.

On Thursday, Braxton authorized a statement about the inadvertent leaking of the plan and of its future.

"While it is disappointing that this document was released in advance of a more appropriate formal announcement, its status as preliminary cannot be overstated."

Braxton added that the preliminary plan was a "starting point" for what was supposed to have been a "confidential initial conversation between the bishop and his closest" advisers.

Braxton, who wrote that he obtained experience in how best to reduce parishes when he served as an auxiliary bishop in St. Louis, stated in the preliminary document, "Leaks of pending decisions must be avoided." Braxton usually does not respond to questions from local reporters.

The draft contains two main parts, how to go about conducting the discussions and listing which elements should be included in any decision to close or consolidate a parish or to leave it alone.

In a prefacing paragraph, Braxton wrote, "Whatever we do must be done with care and appreciation for the concerns of all involved. I believe that a good number of our people are aware of the fact that we probably have more parishes than we need. There is an awareness that some communities that are served by several parishes could be served by one."

Generally, Braxton urged that all parishioners be a part of the process even in parishes where leaders are "unable or unwilling to make a decision."

Braxton advised that the discussion process "should not be rushed" and that "appropriate rites, rituals, and prayer-services must be used to acknowledge the pain involved and mark the transition from one church home to another."

The proposal includes mailing forms to parishioners seeking answers to how best to go about reconfiguring the diocese.