Fremont Schools Last to Know about Kevin Yeckley Sanctions

By Mark Tower
The News-Messenger
August 20 2010

http://www.thenews-messenger.com/article/20100820/NEWS01/8200308/Fremont-schools-last-to-know-of-sanctions


The Diocese of Toledo investigated St. Joseph Central Catholic High School counselor Kevin Yeckley for an improper relationship with a female student.

The American Red Cross

The Ohio Department of Education -- which sanctioned Yeckley in March for "failing to maintain appropriate student-teacher boundaries" -- was informed as well.

But that didn't stop SJCC principal Mike Gabel from calling Yeckley an excellent employee and advising the Fremont City Schools to rehire him in January.

Yeckley was an employee of Fremont City Schools, and the majority of his salary was paid with state auxiliary funds allocated for non-public schools. But even after signing a consent agreement with ODE in March, it was another two months before Fremont City Schools Superintendent Traci McCaudy found out about Yeckley's sanctions, including limiting his current teaching license to within the Diocese of Toledo. Yeckley and Gabel's resignations were announced last week.

Yeckley's failure to report the limitation of his license to Fremont City Schools violated the consent agreement.

"The district did not know about the consent agreement, the ODE's investigation prior to the consent agreement or any concerns about Kevin Yeckley until May 13," McCaudy said. "I was the one who called the ODE on May 13 to look into the matter."

The ODE sent a letter to Yeckley on June 30, telling him he violated that agreement by being employed outside the diocese by Fremont City Schools and for not informing his employer of the limitations imposed in the agreement. Teachers typically have 30 days to request a hearing for such a violation, ODE spokesperson Julie Daubenmire said, which Yeckley did not do. The ODE could pursue further disciplinary issues in the matter, Daubenmire said.

Toledo Diocese case manager Frank DiLallo, who conducted an investigation into Yeckley's alleged misconduct, contacted the ODE Office of Professional Conduct on Oct. 12, and sent his completed investigation findings to the ODE's Office of Professional Conduct Nov. 18.

Daubenmire declined to comment on anything that happened prior to the consent agreement signed in March, saying the Office of Professional Conduct considers only the consent agreement to be a public record.

DiLallo sat down for an initial meeting with Yeckley on Oct. 29, which was also attended by Gabel and Greg Reed, human resource director for the Toledo Diocese.

McCaudy said the district would continue to work with Bishop Hoffman Schools -- the name given to the consolidated system that now is made up of SJCC, Sacred Heart and St. Joseph schools.

"There has to be that communication and collaboration between us and the non-public school districts," she said. "We rely on the non-public schools to communicate all personnel issues to us, both the positive and the negative ones, because we are responsible as the employer."

Neither Yeckley nor Gabel could be reached for comment.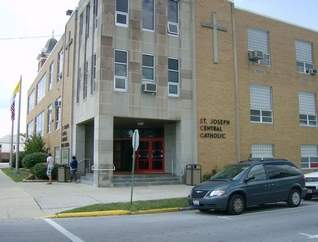 YECKLEY Kevin Yeckley was a counselor at St. Joseph Central Catholic School, where he was sanctioned for having an inappropriate relationship with a student. (NM file photo)



Yeckley, who had never had a complaint against him on the local or diocesan level, told DiLallo that he counseled a female student at SJCC starting in 2006, which eventually led to an incident in November 2008, when he told her he had feelings for her.

At one point during that time, Yeckley said, the student was visiting his office two or three times each week for counseling.

In the summer of 2008, the student started working for a house refurbishing business owned by Yeckley.

Yeckley said although he had hired many SJCC students to work for him in the previous seven to eight years, she was the first female student he hired.

He told DiLallo that, in hindsight, hiring her was a mistake because she was "fragile emotionally and I didn't clearly step away" from his counseling relationship with her. She continued to work for him during the fall of 2008, and he said he would periodically give her an affirming hug, the same type of hug he would give to both male and female students at school who needed positive affirmation.

In November, he said the two of them worked alone on a house for several consecutive Saturdays and he admitted he was having uncomfortable feelings being around her.

"I was controlling myself well ... the feelings I was having toward her ... I was controlling them, but they weren't going away," he told DiLallo.

He said at one point when the student asked for a hug he got scared.

"If I didn't stop hugging her in that moment, I didn't know where it was going to lead ... so I moved back and told her I was having feelings for her," he told DiLallo.

He admitted to DiLallo that there were better ways he would have liked to handle the situation. Yeckley said his wife told him he needed to be leery of his relationship with the student, but he didn't listen.

"I'm mad at myself and disgusted with myself ... this will never happen again," he told DiLallo.

The student confided in a teacher at SJCC in March 2009, telling her she was confused about what Yeckley said to her in November.

She told the teacher that there was "no kissing ... no intercourse ... nothing sexual" between her and Yeckley.

The teacher told assistant principal Deb Streacker, who told Gabel, who reported the situation to Jack Altenburger, superintendent of Catholic Schools for the diocese. DiLallo's investigation began after Altenburger brought it to the diocese's attention on Oct. 12.

Yeckley told DiLallo that he agreed in December 2008 to only deal with the student on college-related appointments and discussions and that she was no longer allowed to work for his side business. He denied any contact with her after she graduated.

Yeckley submitted his resignation to McCaudy on Aug. 3, for personal reasons, which was accepted by Fremont City School's school board Monday.

Yeckley's resignation from SJCC was announced by new Bishop Hoffman Schools Superintendent Rick Facciolo last Friday, along with the resignation of Gabel, both effective on Aug. 26.

Facciolo said the district is exploring its options to fill the soon-to-be vacant positions and hopes to do so before the school year resumes on Aug. 31.