Lawsuit Accuses Berks Priest of Fathering Teen's Child

By Tracy Jordan
Morning Call
August 27, 2010

http://www.mcall.com/news/breaking/mc-reading-priest-pregnant-diocese-la20100827,0,3276836.story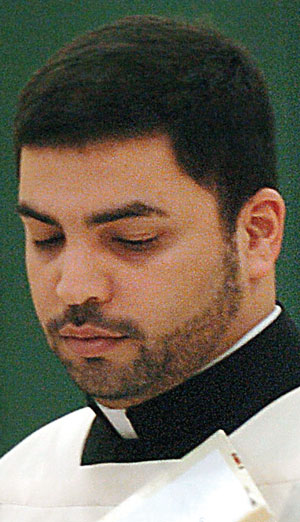 Father Luis A. Bonilla Margarito shown at the dedication of the new gym at St. Anne's Catholic School in Bethlehem in January, 2006. (Harry Fisher/Morning Call file photo)



A Roman Catholic priest allegedly seduced a 17-year-old girl while she was a senior at a Catholic high school in Reading into a sexual relationship that resulted in her giving birth at age 19, according to a civil lawsuit filed by the parents in Berks County Court.

According to the lawsuit, the Rev. Luis A. Bonilla Margarito was removed as chaplain of Reading Central Catholic High School and pastor of St. Joseph's Church in Reading after the parents secretly video-taped him having sexual intercourse with their daughter in the basement of their home in November 2009.

By then, she had graduated from high school and had turned 18 years old, but the lawsuit alleges the sexual relationship began when she was still in high school. The lawsuit says her parents allowed their daughter to meet with the priest for counseling because she had severe mental health issues as a result of a prior sexual abuse by another adult male.

They decided to video-tape one of their counseling sessions because they had become suspicious of the priest's intentions after overhearing him tell her daughter she didn't have to listen to her parents anymore because she was 18, the lawsuit says.

With the video evidence, the parents informed the Allentown Diocese of the relationship, the lawsuit says. As a result, Father Bonilla was transferred to a treatment facility, but the Diocese did not restrict his activities and he continued to contact and meet with their daughter without their knowledge. As a result, she became pregnant and gave birth to a premature girl.

According to the lawsuit, Father Bonilla currently resides on Forest Avenue in Norristown.

The lawsuit, filed by Jay N. Abramowitch of the Leisawitz Heller Law Firm in Wyomissing, seeks damages for gross negligence, infliction of emotional distress and breach of fiduciary duty. The lawsuit says the parents gave money to the church and school expecting that their daughter would be protected from "sexual abuse and exploitation by sexual predators such as Father Bonilla."

Margarito was ordained in 2000, after which he was assigned to St. Joseph the Worker Church in Orefield. He then worked at St. Peter Church in Reading and was assistant pastor for St. Ann Church in Emmaus before his appointment as pastor at St. Joseph's.

The defendants named in the lawsuit are Father Bonilla, the Allentown Diocese, Central Catholic High School, Bishop John O. Barres and retired Bishop Edward P. Cullen.