Teen Found at Apartment of Priest Her Parents Sued

Reading Eagle
August 28 2010

http://readingeagle.com/article.aspx?id=244723

Pair said to have moved in months ago, then baby born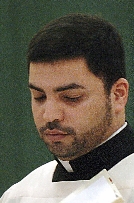 Rev. Luis A. Bonilla Margarito



A priest formerly assigned to Central Catholic High School is evidently living with the 19-year-old former student whose parents have filed a lawsuit claiming that the priest is the father of their daughter's child.

On Friday an Associated Press reporter knocked on the door of the Rev. Luis A. Bonilla Margarito's apartment in Norristown.

A woman answered, identifying herself as the teen named in the lawsuit. She declined to comment. Bonilla was not seen.

David Weldon, a maintenance man at the apartment complex, said the couple moved in together two or three months ago, and that the woman had the baby about six weeks ago.

Diocesan spokesman Matt Kerr said Friday that the diocese was not aware that Bonilla and the young woman were living together.

Her parents, a Muhlenberg Township couple, sued Bonilla, who is a former pastor of St. Joseph's Roman Catholic Church in Reading, and the Diocese of Allentown in Berks County Court on Thursday.

According to the complaint, the diocese failed to prevent the relationship, which began in 2008-09 when the girl was a senior at Central, where Bonilla was chaplain.

According to the suit, Bonilla was removed from his posts after the girl's parents showed the diocese a videotape of the priest having sex with their daughter in the basement of the couple's home.

At the time, Bonilla acknowledged an inappropriate relationship with the teen, officials said. Bonilla was sent to a treatment facility, but "continued to have intimate contact with (the teen) during this time period and ultimately impregnated her," the suit said. She gave birth to a girl.

Bonilla, 41, left the facility at some point and moved into the two-story complex of brick garden apartments in Norristown.

"He has no assignment and he has not functioned as a priest since November," Kerr said.

The Survivors Network of those Abused by Priests, a support group for victims of clergy abuse, released a statement Friday calling on the Allentown Diocese to find out if Bonilla had an inappropriate relationship with anyone else.

Bonilla was named the chaplain of Central Catholic in 2008 and began counseling the teen at the beginning of her senior year, the suit alleges. Bonilla began to groom the teen for a sexual relationship, the suit says, knowing that she suffered from mental health issues, was previously sexually abused by an adult man, and was susceptible to being manipulated.

The suit also names Bishop John O. Barres and former Bishop Edward P. Cullen as defendants.