Diocese Removes Deacon

Albany Times Union
August 29 2010

http://www.timesunion.com/local/article/Diocese-announces-deacon-s-removal-636395.php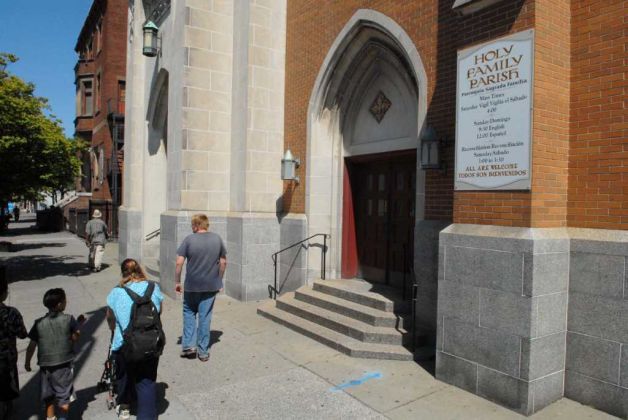 Parishioners arrive for service at the Church of the Holy Family on Central Avenue in Albany on Sunday, Aug. 29, 2010. The Roman Catholic Diocese of Albany announced Sunday that it has removed deacon Angel Garcia from active ministry at the church after determining there were reasonable grounds to believe he sexually abused a minor in the early 1990s prior to his training and ordination as a?deacon. (Paul Buckowski / Times Union)



ALBANY -- The Roman Catholic Diocese of Albany has removed a deacon from active ministry after determining there were reasonable grounds to believe he sexually abused a minor in the early 1990s before his training and ordination as a deacon.

Angel Garcia had been a deacon with Albany's Church of the Holy Family for at least eight years. Church officials announced his removal Sunday at the Central Avenue church, which serves a largely Hispanic congregation, including families of Mexican, Puerto Rican and Dominican descent. The church offers Mass in both English and Spanish.

Garcia is now banned from officiating at any sacraments and from wearing clerical garb in public.

Deacons can celebrate Mass and perform weddings but they can't consecrate the Eucharist. Garcia was involved in the diocese's Hispanic Apostolate, which serves parishioners of Hispanic background.

The Rev. Ron Menty, the diocese's administrative advocate for priests, made the announcement at Holy Family. Another deacon, Miguel Fabian, translated at the Spanish Mass.

News of Garcia's ouster came as a surprise to parishioners.

"We never expected it," said Rafael Arellano, who was attending Mass with his wife and other family members.

"It was like a bomb to me. I wasn't expecting that. That's for sure," said Al Priotti who like others interviewed while leaving Mass said they didn't know Garcia very well.

Priotti brings his aging mother, an Argentine immigrant, to the church for Spanish Mass.

Priotti said when Menty first said he had a statement, he feared they might announcing the closure of the church.

"He seems like a church person," a woman who occasionally attends Mass at Holy Family said of Garcia.

The woman, who didn't want to be named, said Garcia always looked clean-cut and fit the image of a deacon.

Goldfarb said the diocese received the complaint against Garcia, which he said involved a single allegation, within the last year. Diocese officials first alerted law enforcement and after no criminal charges appeared to be pending, took action. (In cases where abuse is alleged from years ago, the statute of limitations can make criminal prosecution difficult).

Goldfarb explained that allegations are sent to the Albany Diocese Sexual Misconduct Review Board. The Board is made up of six lay people and two clergy members. It investigates allegations of sexual misconduct by clergy and makes recommendations to Bishop Howard Hubbard on appropriate actions.

Following Mass, Menty said people with questions about Garcia could stay and meet with church officials. About two dozen of the approximately 150 present stayed.

Menty said Garcia also serves as a chaplain at the state's Greene Correctional Facility in Coxsackie, Greene County. It was unclear Sunday whether Garcia still works at the state prison. Diocese spokesman Ken Goldfarb said they advised prison officials as soon as they learned of the allegation against Garcia.

Garcia couldn't be reached for comment on Sunday.

The diocese statement said Garcia denied having inappropriate contact with any youths.

The statement also said the diocese has a zero-tolerance policy for sexual abuse of minors by clergy and urged anyone who as a child was sexually abused by a Catholic priest or deacon to report the matter to a law enforcement agency or to the diocese.

The church, located at 283 Central Ave., used to be known as St. Patrick's.

In October, the church will be come a shrine church and renamed Our Lady of the Americas. Masses will continue to be offered on Sundays and holy days in English and Spanish with a retired priest serving as chaplain.

Rick Karlin can be reached at 454-5758 or by e-mail at rkarlin@timesunion.com News Research Director Sarah Hinman contributed to this story.