Pa. Priest Luis Bonilla Margarito Impregnated Teen, Says Suit

CBS News
August 30 2010

http://www.cbsnews.com/8301-504083_162-20015073-504083.html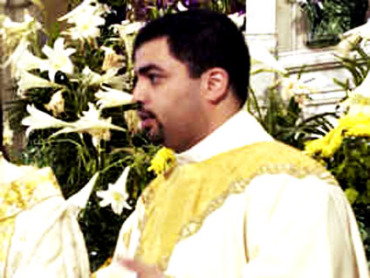 Rev. Luis Bonilla Margarito (AP)



ALLENTOWN, Pa. (CBS/AP) A 41-year-old priest who was allegedly caught on videotape having sexual relations with one of his 18-year-old female students now stands accused of fathering the young girl's baby.

The parents of the high school senior suspected Rev. Luis Bonilla Margarito, an ex-chaplain at Reading Central Catholic High School, and their daughter were having sex in the basement of their home.

They decided to take legal action after they say a hidden video camera recorded a sexual encounter between the couple in November 2009 confirmed their suspicions.

The lawsuit, which was filed Thursday, claims that the relationship between Bonilla and the teen, who now appear to be living together, began during her senior year at Reading Central Catholic High School.

The suit says, Bonilla "began to groom [the teen] for a sexual relationship" despite the fact that he knew she suffered from mental health issues, was previously sexually abused by an adult man, and was "susceptible to being manipulated."

He took steps to alienate the teen from her parents by telling her that she was 18 and no longer had to obey them, the suit claims.

The parents suspected the behavior and reported their concerns to administrators at Central Catholic who reportedly dismissed their suspicions and said that "nothing could be done to separate [the teen] and Father Bonilla because he was her spiritual advisor and/or counselor.

The suit names as defendants Bonilla, the diocese, the high school, Allentown Bishop John Barres, and former Bishop Edward Cullen.

The parents' concerns were acknowledged by the Diocese of Allentown who removed Bonilla from his post as chaplain and pastor of St. Joseph Church and sent him to a treatment facility; however, it was during this time that they claim Bonilla impregnated his former student.

According to the maintenance man at the couple's apartment complex, the teenager had a baby girl six weeks ago.