Child Rapist Appeals Ruling on Plea Deal

By
Wjz
September 1, 2010

http://wjz.com/local/john.merzbacher.plea.2.1888335.html

A former Catholic school teacher convicted of raping one of his students in the mid-1970s has filed an appeal that he hopes will improve his chances of being released from prison.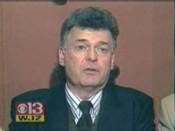 John Merzbacher, a convicted rapist, was granted an appeal by a federal court judge.



A federal judge has ruled that John Merzbacher had ineffective counsel because his attorneys didn't give him a chance to accept a 10-year plea deal before his 1995 trial. Judge Andre Davis ordered that Merzbacher should be offered the plea deal again -- but he said a judge "must express a willingness" to go along with the deal.

Merzbacher's appeal seeks to strike down that caveat in Davis' ruling. He says in court papers that it's not likely that a judge "would approve such a plea agreement today."

Merzbacher was accused of molesting more than a dozen children, but those charges were dropped when he was convicted and sentenced to four life terms.