Judge Dismisses 'With Prejudice' Sex Abuse Charges against Catholic Priest

Catholic News Agency
September 2, 2010

http://www.catholicnewsagency.com/news/judge-dismisses-with-prejudice-sex-abuse-charges-against-catholic-priest/

A judge in West Virginia has dismissed all charges against a Catholic priest from Cincinnati who was accused of molesting a 10-year-old boy in 1991. Attorneys for the priest, who was suspended for over a year because of the allegations, said the ruling found that the accuser had manipulated and falsified evidence.

In January a Roane County grand jury indicted Fr. Robet F. Poandl, 68, on charges of molesting the alleged victim at the Holy Redeemer Catholic Church in Spencer, West Virginia, the Charleston Gazette reports.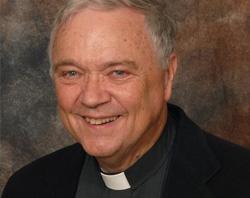 Fr. Bob Poandl



The charges were dismissed "with prejudice," meaning he cannot be prosecuted on the same charges in the future.

Judge David W. Nibert had ordered the accuser to disclose certain records, but the accuser never made a complete disclosure.

Anita H. Ashley, one of the priest's two defense attorneys, said the judge decided that missing medical records "may well have been exculpatory." In her view, the judge "basically said that the accuser had manipulated the evidence, basically that he could not trust him based on his history. He had no trust in his ability to make a fair and honest disclosure."

"From the beginning it was clear to me that this man was innocent," Ashley continued. "I commend the judge for making this ruling, which is clearly the right ruling."

In a letter Fr. Poandl said he knew the accuser was "not trustworthy" and that "I had not hurt him in any way, let alone committed that terrible crime against him."

He said that "lying" makes it harder for true crime victims to come forward and that his own honesty was strongly questioned because of "some very sad history" in the Catholic Church.

Judy Jones, Midwest associate director of the Survivors Network of those Abused by Priests (SNAP) said her organization hoped the case would be appealed to the state Supreme Court.

"(I)t's important that suspected child predators not walk free because of legal technicalities," she said in a Monday statement, according to the Charleston Gazette.

Jones said that the victim and his family are "very credible and caring." She also called on Catholic bishops in dioceses where Poandl has served to investigate accusations against him.

Glenmary Home Missioners issued a statement on Friday saying that the priest has "never" had any other allegation against him in his 40 years as a missionary priest.

Fr. Dan Dorsey, president of Glenmary, said that the accused priest maintained his innocence since the accusation was made.

"From the outset, I and the entire Glenmary community have prayed for a just resolution. After reading Judge Nibert's decision to dismiss, I believe a just resolution has been rendered."

Fr. Poandl has been on administrative leave since June 9, 2009, when the initial allegation was first brought to Fr. Dorsey's attention. He has not functioned publicly as a Catholic priest since that date.

The Glenmary Review Board will now review all the information gathered ruing the past 14 months of investigation and report to the Glenmary Executive Council. The council will then determine Fr. Poandl's future.

"This has been a long, painful experience for everyone involved," Father Dorsey said. "I pray that God's love and compassion will help heal the wounds of all those who have been affected by this situation over the last 14 months."