Retired Anglican Archbishop Defends 'heroic' Irish Catholic Priests

By Cathy Hayes
Irish Central
September 3, 2010

http://www.irishcentral.com/news/Retired-Anglican-Archbishop-defends-heroic-Irish-Catholic-priests-102141914.html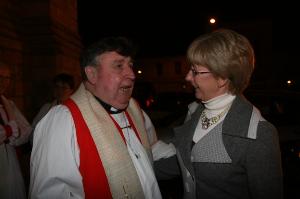 Archbishop of Dublin, the Rt Revd Walton Empey has a chat with the Minister for Social and Family Affairs, Mary Hanafin



In a letter to the Irish Times, former primate of the Anglican Church in Dublin, Archbishop Walton Empey, defended Irish Catholic priests who have continued to minister throughout the abuse scandals within the Church.

He said "As a retired priest and bishop of another Communion I was loathe to comment on the current situation within the Roman Catholic Church as it might be interpreted at best as meddling in the affairs of another church and at worst to be seen as patronizing in tone." His letter appeared in the Irish national broadsheet on September 2.

In his letter he set out an "appeal for support to those priests who continue to minister in the most challenging circumstances."

He recounted a story of his own experiences on how difficult everyday life could be for priests in Ireland.

His letter reads "Some years ago I was walking to the Mater Private Hospital to visit a good friend, Archbishop Joe Cassidy. On the way, I passed a group of teenagers who shouted, "Abused any children lately, Father?"

On reaching the hospital I sat down for a few minutes to compose myself before my visit. I thought of all the fine priests who had to suffer such insults and worse almost every day and wondered if I could have endured it. It is shameful that they should be tarred with the same brush as those who committed such horrendous crimes. I would add my voice to the plea that they "not be left alone at the altar". They deserve the support and respect of every Christian regardless of denomination."