Priest Linked to Abusing Jeffersonville Man Indicted in Tennessee

The Courier-Journal
September 3, 2010

http://www.courier-journal.com/article/20100903/NEWS01/309030092/1008/Priest+linked+to+abusing+Jeffersonville+man+indicted+in+Tennessee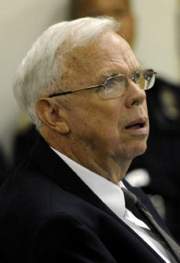 Retired priest Bill Casey at his sentencing in a molestation case in McDowell County, N.C., in July. (Courtesy of ebrethau@citizen-times.com)



Authorities in a third state — Tennessee — are bringing charges against a priest who was removed from ministry after a Jeffersonville, Ind., man reported earlier this year that the priest had sexually abused him more than 30 years ago.

William Casey faces felony charges of one count of criminal sexual conduct and two counts of aggravated rape in an indictment handed down Friday by a Sullivan County, Tenn., grand jury, according to Assistant District Attorney Barry Staubus.

He is in custody on a $100,000 bond, Staubus said. The indictment alleges the acts took place between 1978 and 1980.

Casey already received a sentence of probation in July in McDowell County, N.C., after pleading guilty to committing a crime against nature in the 1970s. And he has pleaded not guilty in Scott County, Va., to charges of sodomy and indecent liberties with a minor, both felonies.

All of the charges resulted from reports to authorities by Warren Tucker of Jeffersonville, who grew up in Tennessee, who says he was also abused in that state and on trips to North Carolina and Virginia.

Tucker traveled to Knoxville, Tenn., earlier this year to report to Casey's bishop that the priest had sexually abused him repeatedly in the late 1970s and 1980. Bishop Richard F. Stika immediately removed Casey from all ministry after saying the priest "admitted to the fact of abuse."

Roman Catholic bishops' policy in the United States requires the removal of sexual abusers from all ministry for life.