Former Knox Priest Casey to Face Further Charges of Child Molestation

By Nash Armstrong
Knoxville News Sentinel
September 5, 2010

http://www.knoxnews.com/news/2010/sep/05/former-knox-priest-casey-face-further-charges-chil/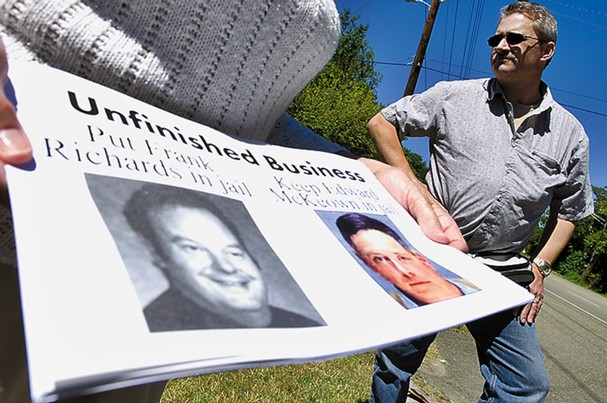 Warren Tucker, an abuse victim of former Knoxville priest William 'Bill' Casey, attends on Sunday a news conference held by the Tennessee branch of the Survivors Network of those Abused by Priests.
Photo by Saul Young


A former Knoxville priest will face further charges of child molestation, and his victim says he will not stop until justice is served.

'I look forward to the day when I can finally know that this predator is in prison, and I can finally get on with my life in a lot better way,' Warren Tucker said Sunday.

A Sullivan County, Tenn., grand jury indicted Tucker's former priest William 'Bill' Casey, 76, on three charges - one count of first-degree criminal sexual conduct and two counts of aggravated rape - early last week, according to a Friday report in the Kingsport Times-News.

This marks Casey's third indictment in as many counties. Casey pleaded guilty in late July to molesting Tucker in McDowell County, N.C., and was sentenced to 24 months' probation.

On Aug. 24, however, he pleaded not guilty to charges of forcible sodomy and indecent liberties with a minor - Tucker - in Scott County, Va. If convicted on those charges, Casey faces up to 25 years in prison.

He is scheduled to appear in court Sept. 13 in that case.

Tucker says Casey's claim of innocence shows a 'convenient case of amnesia.'

'Now that prosecutors won't come off prison time, I fully expect he'll have the same case of amnesia when he goes before the Sullivan County court,' Tucker said. 'That's OK, though, because now I can stand up to it and we'll get him the whole prison sentence.

'If (Casey) doesn't think (he'll receive prison time), we'll wait and see. As far as I'm concerned, he's going to prison.'

On Sunday, Tucker joined others who claim they were abused by Catholic priests near the Catholic Diocese of Knoxville as the leaders of the Tennessee branch of the Survivors Network of those Abused by Priests unveiled 'Unfinished Business,' a new initiative to seek justice for those who claim they were abused by Casey and two other East Tennessee priests during the same time frame as Tucker.

Tucker claims Casey molested him more than 50 times during the late 1970s and early 1980s, beginning in 1975 when he was a fifth-grader at St. Dominic's church in Kingsport.

Tucker, who filed criminal charges against Casey in four locations in late April, said that he wants the last county - Greene County in East Tennessee - to charge Casey as well but that he is not optimistic.

'(Third Judicial District Attorney General C. Berkeley Bell) has said he will not look into it,' Tucker said. 'That just shows a complete lack of compassion and understanding on Bell's part. If Sullivan County can look into and charge (Casey), why can't Mr. Bell look into it?

'I was abused many times in Greene County. : There's a way, if (Bell) is determined enough. The simple fact is they're not determined enough.'

Attempts to reach Bell for comment were unsuccessful.

While Tucker says his case will be closed when Casey receives prison time, he is determined to change Tennessee's statute of limitation laws involving child molestation.

'I will never move on until this state abolishes (child abuse) statute of limitations,' said Tucker, who now lives in Jeffersonville, Ind. 'Virginia and Kentucky don't have them. : Tennessee needs to stand up and say, 'No more.' '

Nash Armstrong may be reached at 865-342-6336.