Archbishop Says UK Taxpayer Should Help Fund Pope Visit

BBC News
September 5, 2010

http://www.bbc.co.uk/news/uk-11191386

[with video]

The head of the Catholic Church in England and Wales has said it is right that UK taxpayers should help pay for the Pope's trip to Britain.

Critics are angry that up to ?12m is to come from the public purse.

But Archbishop of Westminster Vincent Nichols told the BBC it would be a "sad day" when the UK "closes its doors and says we can't afford state visits".

He also hinted the Pope may meet victims of the Catholic abuse scandal during this month's four-day visit.

Pope Benedict XVI will arrive in Scotland on 16 September for first papal visit since Pope John Paul II in 1982.

This trip, which will also include events in London and Birmingham, will be the first ever official state visit to Britain by a serving Pontiff.

'Spiritual leader'

An online poll of 2,005 people, published this week, found 79% had "no personal interest" in the visit.

The survey, by think tank Theos, also found 77% thought taxpayers should not help pay for it.

But Archbishop Nichols told the BBC's Andrew Marr programme it was right the taxpayer and the Church shared the bill because the Pope was coming at the invitation of the government.

"It is a state visit, and the day that this country closes its doors and says we can't afford state visits is a very sad day because it would be a real gesture of isolationism," he said.

"And I think we should remember that the Pope comes as the spiritual leader of one in five of all the people on this planet, so this is not a minor figure, as it were.

"This is the leader of probably the oldest international institution, that serves humanity in a tremendous way right around the globe."

Asked whether the Pope would meet victims of abuse, Archbishop Nichols said: "The pattern of his last five or six visits has been that he has met victims of abuse.

"But the rules are very clear - that it is done without any pre-announcement, it is done in private and it is done confidentially, which is quite right and proper. So I think we have to wait and see."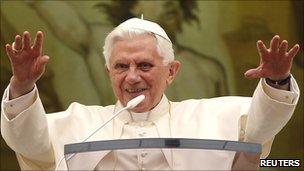 Pope Benedict will be welcomed by the Queen when he arrives in Edinburgh on 16 September



He said he did not think the abuse scandal would "overshadow everything else about this visit", adding: "This is an issue we have to take seriously, but it's not the whole story."

'Taken seriously'

Earlier this week, an aide to Archbishop Nichols, Edmund Adamus, told Catholic news agency Zenit that Britain had become a "selfish, hedonistic wasteland".

But the Archbishop said he disagreed with that assessment.

"I think our society is characterised as much by generosity and genuine concern of one for another, and I think religious faith is taken quite seriously by probably a majority of people in this country."

He said he accepted there would be protests during the Pope's visit, but added: "I'm sure it will be done in a proper manner. After all, this country has a great tradition of hospitality towards its guests and this is a very important guest."