Will We Be Converted by the Pope's Visit?

By Cristina Odone
The Telegraph
September 5, 2010

http://www.telegraph.co.uk/news/newstopics/religion/the-pope/7981937/Will-we-be-converted-by-the-Popes-visit.html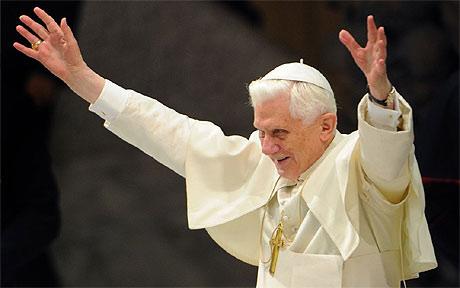 Pope Benedict XVI: 'nothing can dent the sheer joy felt by many of Britain's four million Catholics at the prospect of seeing the Pope in their midst'



The visitor to the More Hall care home in Stroud, Gloucestershire, usually finds an oasis of pious tranquillity. But for some days now, the Benedictine nuns who run the home have been in a state of high excitement: two of the sisters have won tickets to Birmingham on September 19 to see Pope Benedict XVI. The beatification of Cardinal John Henry Newman will take place at Cofton Park and – "God willing" – Sister Elsy Poonoly and another nun will be there. "We are very pleased," Sr Elsy tells me, "and very excited."

Threats of a citizen's arrest; protests from survivors of priestly abuse and the gay rights lobby; some spectacular organisational bungling on the part of the Catholic hierarchy in this country: nothing can dent the sheer joy felt by many of Britain's four million Catholics at the prospect of seeing the Pope in their midst. In what must count as the annus horribilis of the Church, when every day seemed to bring fresh revelations of abuse by priests of their young charges, the Catholic faithful are hungry for reassurance. Apart from a miracle – Richard Dawkins's Damascene conversion? Cardinal Newman, resurrected, fulminating at the next gathering of the British Humanist Association? – the papal visit, with its pomp and picnics, is the best means to restore hope and rekindle faith.

"The visit gives us our one chance to hear the Pope directly," says the composer James MacMillan. "It will be of immense value to us, as his flock, to receive his message without the media's negative interpretation. The impact will be felt for decades – we're still talking about John Paul II's visit in 1982."

This will be a very different papal visit. When Benedict XVI lands at Edinburgh airport on September 16, he will not drop to his knees and kiss the ground, as his predecessor did. This is not only because the octogenarian pontiff is physically frail and less of a showman, but because the grand romance of that gesture would strike a false note today.

The Polish Pope's coup de theatre perfectly encapsulated the vigour and glamour of the Catholic Church 30 years ago. The papacy was respected for waging battles against totalitarian regimes in the former USSR and South America. John Paul II, blessed with Hollywood magnetism and capable of Churchillian oratory, held non-Catholics as well as Catholics in thrall.

These are different times. Catholics have watched in horror as, almost daily and almost in every country, broken men and women have come forth to tell of their ordeal at the hands of abusive priests. Here in Britain, Catholics have witnessed their Church being subjected to humiliating attacks from a commentariat which, more than anywhere in the world, is strident in its hostility to all religions.

MacMillan is convinced that Benedict will be able to "counter the primal anti-Catholicism here in Scotland and in England. We need to show people what the Pope is like. That will convert them."

Privately, organisers of the papal visit must be wondering whether the numbers attending each event will be sufficient to fill the venues, let alone bring about the conversion of England. As one source who asked not to be named explained, ticket sales outside of London have been disappointing and donations from the faithful limited.

"He's not a money-spinner," confirms Andreas Campomar, editorial director at the publishers Constable & Robinson. "There's been no interest in doing a book on the papal visit, or a celebration of Benedict to tie-in with his coming. There is, instead, appetite for anti-Catholic, anti-Pope books centred on priestly abuse."

For Campomar, Benedict XVI is not only a victim of age-old anti-Catholic feeling, whipped up by the recent scandals, but also of anti-German prejudice. A half-German Catholic himself, Campomar sees the Pope as "fatally Germanic" in his precision and unwavering conviction. "It boils down to his not being simpatico. People don't warm to him."

Lord Guthrie, a Catholic convert, dismisses complaints that Benedict is not "a people person". "This is a holy man, not a celebrity. We cannot judge him by the standards of a pop star. He would be horrified if he thought people saw him as anything other than a spiritual man who has devoted his whole life to the Church."

Benedict would be horrified, too, one suspects, if either his Popemobile, a performance by the Irish clergy trio The Priests, or Carol Vorderman – the former Countdown presenter who has been hired as a warm-up before the Pope's appearance at a Mass in Hyde Park – distracted the faithful from what he sees as his mission here: the beatification of John Henry Newman.

Newman's work on the evolution of theology, his writings on religion and his theories of education have inspired generations of scholars. The hope is that his beatification will encourage legions of ordinary British Catholics to believe that they, too, can become spiritual local heroes. Benedict, like John Paul II, who created more saints than all other popes together, believes that beatification and canonisation can serve as powerful prods to renew a flagging faith. This is the "Yes we can" spirit, in a Catholic context.

From the sidelines, members of the established Church will watch with interest and perhaps not a little regret as a man who started life as one of their own is elevated to "Blessed" status. Benedict XVI cannot be accused of "scalp-collecting" in Newman's case; but few close to the Archbishop of Canterbury will forgive the Pope for trying to lure disaffected Anglicans to Rome during the row over women bishops last year. Rowan Williams and Benedict XVI both boast a brilliant intellect, but neither seems inclined to use it to cement an ecumenical alliance. Those who hope that this visit will somehow thaw the frosty relations between Rome and Canterbury should see the Popemobile as proof of their delusion: there's only room for one.

Can Benedict XVI transform the image of the Catholic Church in Britain in his four days here? A poll published this week shows the notion is not as risible as it may seem. People were asked to comment on whether they agreed or disagreed with a series of statements contained in the Pope's third encyclical letter, Caritas in Veritate. Twelve representative statements, taken directly from the letter, were tested and a significant majority agreed with 11 of them – from "Investment always has moral as well as economic significance" to "An overemphasis on rights leads to a disregard for duties". A majority even agreed with Catholic teaching about sexuality: 63 per cent felt that it is "irresponsible to view sexuality merely as a source of pleasure".

Ed Stourton, a lifelong Catholic and the BBC broadcaster who will anchor much of the Corporation's coverage of the visit, is not surprised by these findings. "People are looking for an alternative to the moral relativism that has become the ideology of today. Benedict is one man who really challenges the status quo: the disillusioned can't help but be drawn to his words."

Here, then, is the challenge before the Pope: he must drag his message on the human condition out of the shadow cast by the child abuse scandals. It is a long shadow; but his is a worthwhile message.