Public Believes Taxpayers Should Not Fund Papal Visit

By Jonathan Wynne-Jones
Telegraph
September 5, 2010

http://www.telegraph.co.uk/news/newstopics/religion/the-pope/7981933/Public-believes-taxpayers-should-not-fund-papal-visit.html

The Catholic Church is struggling to capture the public's imagination over this month's papal visit, new opinion polls have suggested.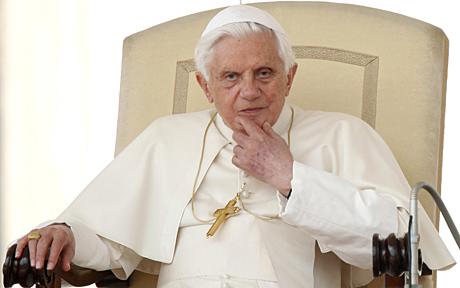 More than three quarters of Britons think the taxpayer should not contribute to the cost of Pope Benedict XVI's visit Photo: REUTERS



A survey by ComRes found that 77% of people think taxpayers should not be funding the trip, while 79% have "no personal interest" in the tour.

The findings come as hundreds of tickets have been reallocated by the Catholic Church following the failure of several dioceses to meet their targets for sales.

The ComRes poll, for Theos, a think-tank, found that one-third of people do not believe the visit will be good for Britain, compared to 29% who think it will be.

Taxpayers will shoulder between ?10 million and ?12 million of the bill for the trip.

A separate survey carried out by Ipsos MORI for The Tablet, a Catholic newspaper, found that only one in five people plan to follow the visit closely. This figure drops to one in ten among those with no religious affiliation.

With growing concerns over how Pope Benedict XVI will be received, it has emerged that the Church has not yet filled all the places for large-scale events in Glasgow, Birmingham and London.

At least seven dioceses are understood to have sent back hundreds of tickets for the prayer vigil in Hyde Park and for the beatification ceremony in Birmingham.

Only weeks before the pontiff arrives in Britain, just a quarter of the 1,900 places allocated to the Nottingham diocese had been taken up, while in Cardiff 332 of 1,078 places had been taken.

In Southwark, two-thirds of the 3,400 tickets for the beatification in Birmingham on Sep 19 had been taken.

Bishop Vincent Malone, papal visit coordinator for the Archdiocese of Liverpool, said that few people in the diocese had asked for tickets and a spokesman for the Archdiocese of Birmingham said a number of parishioners were returning their tickets.

These are now being offered to dioceses where there is high demand for a chance to see the Pope, and also to schools in dioceses close to London, where children might want to attend the Hyde Park prayer vigil on Sep 18.

Organisers have blamed the disappointing response on a lack of coaches for pilgrims and the 6am starting time required to attend the beatification ceremony, but there was also disquiet at the introduction of charges for attending the events, ranging from ?5 to ?25.

Those going to Bellahouston Park in Glasgow on Sep 16 will be able to see Susan Boyle perform, while all pilgrims will receive pilgrim packs, including a CD, map and information about the event.

Meanwhile, Meredydd Hughes, the chief constable who is coordinating security for the visit, has warned that anyone who follows the call of Richard Dawkins to arrest the Pope could themselves be arrested.

Geoffrey Robertson QC will this week publish a legal argument backing Richard Dawkins, the atheist campaigner, who claimed the Pope should be arrested during his visit to Britain "for crimes against humanity".

However, Mr Hughes, chief constable in South Yorkshire, said that legal advice was circulated to forces last week stating that the pontiff has diplomatic immunity so cannot be arrested.

Officers will be issued with detailed guidance on their powers to deal with protesters this week and will be able to arrest anyone who tries a citizen's arrest.

Peter Tatchell, the gay rights campaigner who is leading opposition to the visit, attempted a citizen's arrest on Robert Mugabe, the Zimbabwe president, in 2001.

Mr Hughes said that the police are closely monitoring groups deemed to pose a threat to the Pope's safety, including an Islamist website that has urged Muslims to disrupt the Mass at Cofton Park.

"We are aware of a range of potential threats," he said.

"What is unusual about the Pope's visit is the wide range of groups protesting against him.

"There are groups from the ultra-Catholic wing who believe the doctrine of the Church is not being taken forward, to Protestant groups with long-standing objections to the papacy, and then are those with personal objections to the Pope's visit."

A spokesman for the Catholic Church said: "We're confident we'll be at capacity for these events. We anticipate huge crowds will come to see the Pope."