BBC Branded Anti-religion

By Paul Gilbride
The Express
September 6, 2010

http://www.dailyexpress.co.uk/posts/view/197817/BBC-branded-anti-religion/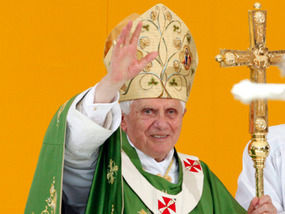 Cardinal Keith O'Brien also voiced concern about a forthcoming BBC documentary on the Vatican



HE leader of Scotland's Roman Catholics yesterday accused the BBC of an "institutional bias" against Christianity.

Cardinal Keith O'Brien believes that mainstream Christian views have been marginalised by the corporation.

He also voiced concern that a forthcoming BBC documentary entitled Benedict – Trials of a Pope will be a "hatchet job" on the Vatican.

It covers Catholic abuse scandals and will be shown on September 15, the eve of Pope Benedict XVI's state visit.

Cardinal O'Brien, the Archbishop of St Andrews and Edinburgh, said: "Our detailed research into BBC news coverage of Christianity in general and Catholicism in particular, together with a systematic analysis of output by the Catholic Church, has revealed a consistent anti-Christian institutional bias.

"This week the BBC's director-general admitted that the corporation had displayed massive bias in its political coverage throughout the 1980s, acknowledging the existence of an institutional political bias. Senior news managers have admitted to the Catholic Church that a radically secular mindset and soc-ially liberal mindset pervades their newsrooms. This is utterly at odds with wider public attitudes and sadly taints BBC news and current affairs coverage of religious issues, particularly matters of Christian belief."

The BBC last night rejected the Cardinal's claims. A spokeswoman said: "The BBC's news and current affairs coverage of any subject is approached in an objective and impartial way, reflecting the different sides of the debate.