Priest Gets 4 Years for Molesting St. Charles Boy

By Josh Stockinger
Chicago Daily Herald
September 8, 2010

http://www.dailyherald.com/story/?id=406562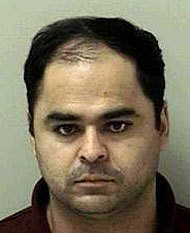 Alejandro Flores



A former priest who attempted suicide by jumping off a church balcony was sentenced Wednesday to four years in prison for sexually assaulting a St. Charles boy he befriended at church.

Alejandro Flores, 37, wiped a tissue across his eyes as he pleaded guilty to one count of criminal sexual assault at a hearing in Kane County. The Bolivian native, now defrocked, must register as a sex offender and face deportation upon his release from prison.

"The only saving grace for Alex is, he's still a young man and will be able to go back to his family," defense attorney Glenn Sowa said.

Flores attempted suicide in January by leaping from the balcony of a Joliet church after his relationship with a 13-year-old boy from St. Mary's Church in West Chicago came under investigation.

Prosecutor Deb Bree said the victim's mother contacted police after her live-in boyfriend caught Flores and the boy in a "suspicious position" at her home in St. Charles in November 2009.

Bree said Flores instructed the victim "not to tell anyone" of their multiple sexual encounters in the priest's car and at the victim's home. There also were allegations Flores tried to molest the boy's older brother, she said.

"He engaged in grooming behavior with the boys by spending time alone with them and buying them numerous things over the years," Bree said.

Flores was ordained in June 2009, less than a year before the allegations would surface.

Bree said Flores previously told two supervisors, the Revs. Bill Dewan and Burke Masters, that he was sexually abused as a child growing up at an orphanage in Bolivia.

She said Masters warned Flores in 2005 that it was "not appropriate for him to be alone with young boys" after spotting Flores and the victim in a parked car. In the spring of 2009, she said, Flores was warned again by Dewan, who said he saw the victim and his older brother change clothes in front of Flores and call him "daddy." Bree said church leaders also discovered that Flores had been viewing pornography on the Internet and at one point the church held up plans to ordain him so he could receive counseling and learn English.

Masters attended Wednesday's hearing but declined to comment as he left court. The victim's family was not present.

Flores, who collapsed at a previous court hearing, made the sign of the cross on his chest as he entered the court. A bailiff gave him a chair and a cup of water after he indicated he was not feeling well. Sowa said later that it was an "extremely emotional" moment.

"It was very difficult for him," he said.

Flores was given credit for 236 days in the county jail. By law, he must serve at least 85 percent of his sentence, or about three years and five months, Judge T. Jordan Gallagher said.

Bree said the plea deal was negotiated in consultation with the victim's family. Had he been convicted at trial, Flores would have faced 12 to 16 years in prison at minimum, his attorney said.

"I think the sentencing was fair given all the facts, which you don't know," Sowa told reporters, declining to elaborate. "If he would have gone to trial and lost, he would have lost big."