Belgian Cardinal Admits Sex Abuse "Errors"

The Telegraph
September 8, 2010

http://www.telegraph.co.uk/news/worldnews/europe/belgium/7989000/Belgian-Cardinal-admits-sex-abuse-errors.html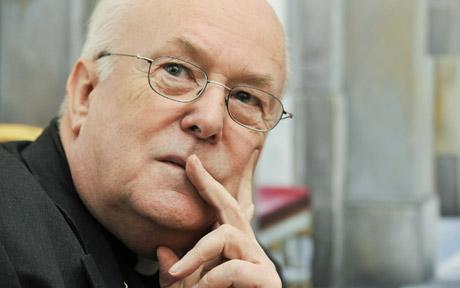 Cardinal Godfried Danneels Photo: AFP/GETTY IMAGES



Cardinal Godfried Danneels also acknowledged that "all too often" the Roman Catholic Church had given damage control precedence over concern for victims in sexual abuse cases involving clergy.

Roger Vangheluwe, the Bishop of Bruges, resigned at the end of April after admitting to a paedophile relationship with his teenage nephew n the late 1970s and early 1980s, when he was still a priest.

The victim, according leaked transcripts of a meeting on April 8, was then asked by Cardinal Danneels to keep silent about the abuse until Bishop Vangheluwe retired next year.

The cardinal insisted that he had tried to establish why the family had kept quiet about the abuse for almost 25 years and he denied mentioning the bishop's impending retirement to influence the relatives.

"I never wanted to suggest that it should not be made public," he said.

Cardinal Danneels, who retired in January, has been questioned by police as a witness in an investigation into sexual abuse by the Church in Belgium.

He said that he had only become aware of a sex abuse problem was big after cases emerged in the United States, the Netherlands and Germany.

"We knew of a few cases. But the stream of reactions that came in after Vangheluwe's resignation made the scale of the problem clear, also for me," he said.

Police raided church offices, the cardinal's home and even opened a cathedral tomb in June to find evidence of sexual abuse of minors by Catholic clergy.

Pope Benedict XVI on Wednesday said repentance was more effective than structural change within the Church to counter sexual abuse by priests.

Using an indirect historial analogy, the Pope recalled the words of XII century Saint Hildegard, according to whom "a true renewal of the ecclesiastic community is the result less of structural changes than of a sincere spirit of repentance and an active path towards conversion."

Saint Hildergard at the time was fighting the criticism by German sects "proposing a radical reform of the Church in order to fight abuses by clergy," Benedict told 7,000 pilgrims at his weekly general audience.

The Pontiff said Hildergard's was "a message that we should never forget."

The Catholic Church has been rocked by a string of recent abuse scandals involving priests, with revelations of the sexual abuse of minors and cover-ups throughout Europe and North America.

In mid-July, the Vatican put in place tougher rules on the handling of sex abuse cases, saying it would accelerate internal investigations and extend by a decade the statute of limitations in such cases.