Tiny Anti-pope Rally Draws Huge Police Response

By Maria Golovnina
Reuters
September 9, 2010

http://blogs.reuters.com/uknews/2010/09/09/tiny-anti-pope-rally-draws-huge-police-response/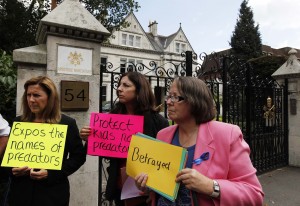 Photo by Stefan Wermuth


Peaking through the iron gates of the Vatican's residence in London, four people rallied quietly on a rainy afternoon holding photographs of children they said were abused by Catholics priests around the world.

With a week to go before Pope Benedict's visit to Britain, the low-key rally drew little press and the activists were about to leave when six police cars swooped on the scene flashing warning lights.

Passers-by looked on in bewilderment as officers got out of the cars and poured into the leafy street in Wimbledon, south London. Local residents craned their necks from windows and balconies to see what was going on.

One policeman used surgical gloves to collect soggy placards into a plastic bag. One police officer said they had received reports of "disturbances" outside the Nunciature, or papal diplomatic mission, where the Pope is expected to stay during his visit to London next week

Holding placards reading "Protect kids not predators", the activists said the display of police force was aimed at intimidating protesters ahead of the visit as they prepare to draw public attention to issues such as child abuse and homosexuality.

Some activists, representing a U.S. and a British campaign group, said they were sexually abused by priests when they were children themselves.

"This is deeply personal to all of us. I hope the Pope is able to listen and to actually do something," said Pete Saunders, of Britain's NAPAC anti-child abuse charity.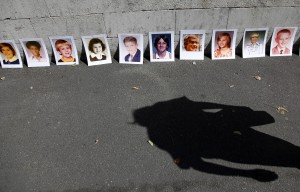 Photo by Stefan Wermuth


He added: "I was abused by Catholic priests two miles down the road from where we are standing. My brother was also abused by one of those Catholic priests six years before I went to the same school. My brother subsequently became an alcoholic and a drug addict and ended up dead."

In July, the Vatican responded to a string of sex abuse scandals by announcing sweeping revisions to its laws on the matter, doubling a statute of limitations for disciplinary action against priests and extending the use of fast-track procedures to defrock them.

It was seen as a significant move because many people who were abused by priests as children often do not find the courage or legal and moral support to come forward until they are well into adulthood.

At the rally, another protestor, Therese Albrecht, 50, said she was abused when she was eight years old by a priest and a nun in a school in Chicago.

"It affected me then and it affected me for the rest of my life. I became seriously depressed, suicidal," said Albrecht, who had travelled from the United States to join a string of rallies planned to coincide with the Pope's visit.

"I didn't face it for many years. When I finally decided to face it and confront it and report it to the authorities at the church, they treated me very badly. They did not want to hear about it."