Pope Faces Protests and Apathy on Visit to Britain

By Sam Jones, Riazat Butt, Stephen Bates and Kaamil Ahmed
The Guardian
September 10, 2010

http://www.guardian.co.uk/world/2010/sep/10/pope-faces-protests-british-visits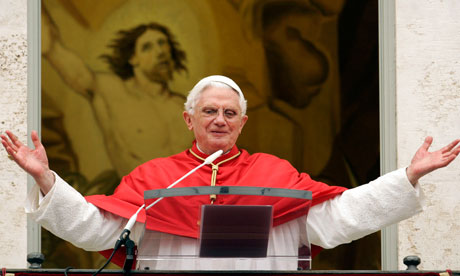 Pope Benedict XVI faces protests on his visit to the UK next week.
Photo by Riccardo De Luca/AP


When Benedict XVI lands at Edinburgh airport on Thursday, he is unlikely to get the rapturous reception that greeted John Paul II on his visit to Britain in 1982.

Over the coming days, the pope will be faced with protesters demanding action on clerical sexual abuse of children and voicing anger at the ?20m cost of the state visit, and must also contend with public apathy.

A recent survey revealed 77% of people questioned felt the taxpayer should not contribute to the cost of the visit, with 79% saying they had "no personal interest" in the pontifical trip.

But others believe Benedict's visit provides a rare chance to put the Vatican in the spotlight and ask the pontiff difficult questions.

Human rights activists, secularists, survivors of clerical sexual abuse and reform-minded Catholics have formed a loose coalition to ensure the opportunity is not wasted.

The movement is spearheaded by Protest the Pope, a group with nearly 9,000 Facebook members, which is planning a march in London in a week to demonstrate against the visit.

Disparate as many of the constituent groups of Protest the Pope are — from Doctors4Justice to Southall Black Sisters — they appear to agree that child abuse is at the top of their list of grievances.

Terry Sanderson, the president of the National Secular Society and a leader of Protest the Pope, said that while secularists objected to the government co-funding a religious visit, theresex abuse was "the one thing that the pope personally needs to answer for".

He added: "He said that penance is a better approach to child abuse than altering the structures of the church. We are being told constantly that the church has changed its ways, but he's saying that they're not changing their ways."

Andrew Copson, the chief executive of the British Humanist Association, said he saw the abuse as "another good example of how the Holy See uses its powers to frustrate justice".

Copson, who does not believe the Vatican should be recognised as a state, wants to use the visit to question its status and practices.

"We hope that people will realise that Pope Benedict is not just the head of a religion that has many adherents and does a lot of good work, but that he and the Holy See use their powers to make people's lives worse," he added.

Others have a more personal interest in seeing the pontiff held to account. "There have been words of apology and statements, but as survivors, and for survivors, we want something substantive to come from the church," Anne Lawrence, the chair of the support groups Macsas (Minster and Clergy Sexual Abuse Survivors) said.

"We want them to commit themselves to finding out how many victims there are. We want the pope to say what he will do for victims of abuse."

Until the Vatican developed a coherent policy on child abuse, set up redress boards and held inquiries, "the absolute scandal" of the church's involvement in sexual abuse would continue, Lawrence added.

Although it is the secularists who are making the most noise, Pope Benedict also faces criticism from within his own flock.

Pat Brown, the spokesperson for the British group Catholic Women's Ordination (CWO), said: "We are looking for the church to be more collaborative and to talk and listen to people more. It seems to us that the church is moving backwards, not forwards."

Despite being a religious organisation, Brown said CWO had common ground with Protest the Pope. "We often find ourselves aligned with people we do not agree with on everything, but on the basic principles, we do agree: it's a nonsense that the Vatican should be seen as a state."

But some progressive Catholics are giving the protests a wide berth. "We're not in the business of demonstrating or anything like that," Bernard Wynne, of Catholic Voices for Reform, said.

The group, which describes itself as the church's "loyal opposition", wants a frank conversation on issues such as women's ordination, sexual orientation and clerical celibacy. To that end, it will pass six questions to the pope through his entourage.

"What we have in the church is an appalling misogyny where priests, bishops, and some lay people would be appalled at women being involved," said Wynne.

"There is a whole series of issues about the equality of women, but also sexual orientation … One could only say that [the church] is intolerant of people of a different sexual orientation."

Austen Ivereigh, a Catholic journalist and the organiser of an unofficial response unit called Catholic Voices, said that although the church was being "put under the spotlight as never before", he believed people were looking forward to the visit.

"There has been criticism from a small proportion of the population who oppose the visit in principle and they have been very ferocious in their attacks, but one wonders who these people speak for," he said.

"The attacks seem to be coming from militant secularists and radical humanists disturbed by faith who want to chase religion entirely from the public square and deny it any voice at all.

"Their irrational hostility and fanaticism undermines their claim to pluralism and demonstrates that actually it is the pope who is the true humanist."

Oddly, Benedict may get the warmest reception from Muslims, whom he most famously offended. "It's a brilliant opportunity for two of the biggest religions to come together and we're playing a part in some of the events," Kawsar Zaman, a spokesman for the Muslim Council of Britain, said.

He said the pope had "clarified" remarks in which he quoted a Byzantine emperor who described Islam as "evil and inhuman", but conceded that a "small minority" of Muslims might still be angry.

"As with every issue, there are people who are going to be against it, [but] we can't have string attached to every Muslim," he added. "You always have the risk of people protesting."

The pope's spokesman, Father Federico Lombardi, said that there had been opposition on past visits, but added: "In this journey to Britain, it's broader because there are more groups of an atheist nature or that are anti-papal which are active and have demonstrated."