Accused "Vicar Killer" Tells of Abuse

By Rob Alderson
Bexhill-on-Sea Observer
September 10, 2010

http://www.bexhillobserver.net/hastings-news/Accused-vicar-killer-tells-of.6524627.jp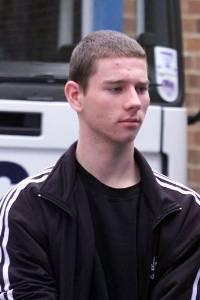 Christopher Hunnisett



A former altar boy accused of killing a vicar and hacking his body to pieces said the retired cleric touched his leg in the bath and told him he loved him.

Christopher Hunnisett was just 17 when he is alleged to have murdered the Rev Ronald Glazebrook, 81, at the house they shared in Coventry Road, St Leonards.

He denies murder, and took the stand this week in his retrial telling the jury the vicar touched him inappropriately on more than one occasion. His claims - described by prosecutors as "wholly unlikely" - were supported by one of Hunnisett's former teachers who said the boy told her about the abuse.

Hunnisett said he was having a bath on April 27, 2001, when Rev Glazebrook came into the room in his pyjamas and sat on the edge of the tub. The vicar told him to be "more giving" in their relationship before touching his inner thigh.

He said: "I hit him. It was a twisting sort of punch. It was as hard as I could at the time. I hit his head and the force of it carried him into the bath and over. He came in head first.

"At some point he was kind of on top of me. I struggled with him to get myself out from underneath him."

The defendant, now 26, said he ran to his bedroom and barricaded the door with his bed. When he found his elderly landlord in the bath the next day, he was dead.

Hunnisett said it was not the first time he had been touched by the vicar, and this week the jury also heard from Christine Baxter, a former teacher now living in France.

She gave evidence via videolink from the British Consulate in Bordeaux and said that Hunnisett told her about the alleged abuse a week before the priest died.

Before Hunnisett first went on trial for the murder in 2002, Mrs Baxter wrote to his lawyers to say the teenager had told her about the vicar's attempts to begin a sexual relationship on "countless occasions".

Rev Glazebrook's body was chopped up and scattered around the county - his head was found in a sports bag behind Summerfields leisure centre and his torso was discovered near the A259.

Hunnisett's original conviction was overturned in March this year. The trial continues.