Lawyers for Abuse Victim Seek to Haul Top Vatican Cardinals before US Court

By Tim Fought
Irish Independent
September 10, 2010

http://www.independent.ie/world-news/lawyers-for-abuse-victim-seek-to-haul-top-vatican-cardinals-before-us-court-2332797.html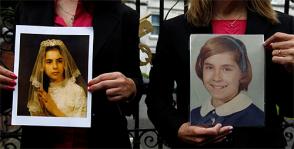 US abuse victims Therese Albrecht and Barbara Blaine with their pictures at the Vatican Embassy, London. Photo: Reuters



LAWYERS for a man who wants to hold the Vatican accountable for the priest who molested him in the 1960s asked a federal judge to allow them to question top cardinals.

The lawyers filed papers in Oregon yesterday outlining requests for depositions from Cardinal William Levada and others. Levada heads the office that defrocks paedophile priests.

The man known in court documents as John V Doe filed suit eight years ago. No trial date has been set.

Recent legal arguments have centred on whether the Vatican is the employer of the priest, the Rev Andrew Ronan.

If ruled to be so, the suit could proceed under a US law that governs how sovereign states such as the Vatican can be sued. Many of the issues may wind up in the Supreme Court, which in June refused to hear one Vatican appeal.

The Vatican's lawyers asked US District Judge Michael Mosman to dismiss the case. Their filing promised supporting documents that were not immediately available.

The Vatican has argued it wasn't responsible for Ronan or his many transfers. Amid allegations of sexual abuse, court documents say, Ronan was transferred from Ireland to Chicago and then Portland, where he abused the victim in question. Ronan died in 1992.

The papers filed in Portland contend that the Vatican controls how priests are hired, educated, disciplined and removed.

Lawyer Jeff Anderson said in an interview he has not ruled out asking for a deposition from the Pope. "You don't start there. You may end up there," he said. "You go up the ladder."