Belgian Bishops Admit Errors, Say Child Abuse Is Societal Problem

Monsters and Critics
September 13, 2010

http://www.monstersandcritics.com/news/europe/news/article_1584122.php/Belgian-bishops-admit-errors-say-child-abuse-is-societal-problem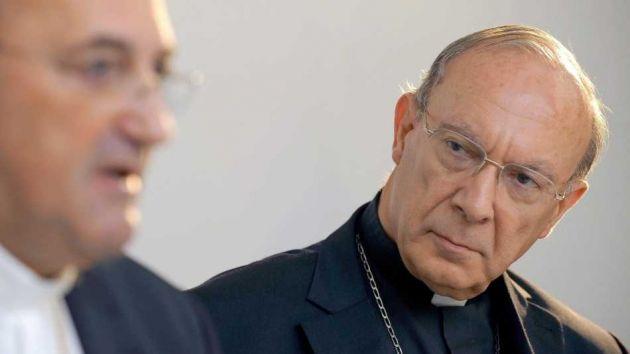 New head of Belgium's Roman Catholic Church, Archbishop Andre-Joseph Leonard (R) attending a press conference, in Brussels, Belgium, on 13 September 2010. EPA/DIRK WAEM



Brussels - The hundreds of child abuse cases detailed in a report last week 'should never, never have happened,' the head of the Belgian Roman Catholic Church, Andre Leonard, said Monday in his first public statement since the document was published.

On Friday child psychiatrist Peter Adriaenssens said the committee the Belgian Catholic Church had asked him to lead to look into allegations of child abuse committed by priests had collected details of almost 500 cases, including victims as young as two.

'The report confronted us with something that should never, never have happened,' Leonard said in a press conference, stressing that the church wished to 'draw the lessons from past errors.'

Adriaenssens' revelations are causing a furore in Belgium, drawing comparisons with the case of Marc Dutroux, a serial paedophile child murderer from the 1990s who is serving a life sentence.

But the prelate dealing with child abuse cases, Bishop of Tournai Guy Harpigny, seemed to play down church responsibility for them, claiming that they are 'part of society.'

'Hence, we want a wider consultation on the issue, with the government and the (local) communities,' he said.

Leonard stopped short of condemning the highest-figure involved so far in the scandal, former Bruges Bishop Roger Wangheluwe, who after resigning in April as he admitted to having abused his nephew for 25 years, has not been sanctioned yet from the Vatican.

Vangheluwe's case touched a raw nerve, with the internal church committee receiving more than 200 reports of other alleged child abuse cases in the wake of his confession, Adriaenssens said Friday.

The disgraced bishop - who faces permanent defrocking - repeated his apologies at the weekend and announced he would leave his diocese to 'reflect.' Leonard said he hoped the Vatican would deal quickly with his case, stressing it was not his responsibility.

'It is up to Rome to take a decision,' Leonard said.

He also said he expected the Vatican to issue a letter to all Catholics in Belgium, similar to one Pope Benedict XVI sent in March after a similar scandal rocked the Catholic Church in Ireland.

The Adriaenssens committee was wound down in June, as its members resigned en masse after the police confiscated all its documents, in a highly publicized swoop that also targeted the headquarters of the Belgian Catholic Church in Mechelen.

After judges last week declared the raids illegal and ordered the documents to be returned, Adriaenssens decided to publish the committee's findings in a report, hiding names of the victims to maintain their privacy.

Leonard said the Belgian Catholic Church would 'do its utmost' to help each of them. To that end, Harpigny announced the creation by the year's end of a Centre for Recognition, Healing and Reconciliation to deal with all cases of child abuse.

Meanwhile a third prelate, Bishop of Antwerp Johan Bonny, urged 'whoever has committed abuses within a pastoral relationship to go and report himself.'

Despite last week's ruling on the June raids, a Belgian prosecutor is still conducting a criminal investigation on child abuse within the church. But all cases dating back to more than ten years are no longer punishable by law.