Ontario Priest Accused of Sex Abuse

By David Olson
The Press-Enterprise
September 13, 2010

http://www.pe.com/localnews/stories/PE_News_Local_D_abuse14.ee896821.html

An Ontario priest has been accused of sexually abusing two adolescent boys, the Diocese of San Bernardino announced this weekend.

A letter revealing the allegations was read during all of the weekend Masses at the four Inland parishes where the Rev. Alex Castillo has served.

Castillo maintains his innocence, diocesan spokesman John Andrews said. Castillo could not be located for comment.

Castillo is still pastor of Our Lady of Guadalupe Catholic Church in Ontario, but he was removed from duty as an active priest June 25, the day after the parents of the alleged victims -- who are brothers-- contacted the diocese, Andrews said. Castillo does not have access to parishioners, he added.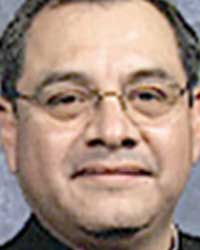 Alex Castillo



The diocese called Ontario police June 25, Andrews said.

Ontario police Sgt. David McBride said he could not confirm whether police are investigating Castillo. The Police Department does not comment on investigations until an arrest is made, he said.

The diocese also handed the matter to a special review board that investigates abuse allegations and includes law enforcement officials and laypeople. The board determined earlier this month that the allegations were "credible," Andrews said. Bishop Gerald Barnes then decided to make the allegations public, he said.

"This is really part of our commitment to potential victims of sexual abuse," he said. "God forbid, but we want anyone else who may have been abused to hear about this and come forward."

In the letter read at the Masses, victims of abuse were encouraged to call police or the diocese's abuse-reporting hot line, 1-888-206-9090.

Castillo has not lived at the Our Lady of Guadalupe rectory since late June, Andrews said. He declined to disclose where Castillo is.

Joelle Casteix, western regional director of Survivors Network of Those Abused by Priests, criticized the diocese for not revealing Castillo's whereabouts and for not disclosing the abuse allegations in June.

"If it was threatening enough for them to call police the next day to make a report, why did they not warn people he was a potential threat?" Casteix asked.

She said even though Castillo was removed from active duty, he could have leveraged the trust he had to continue abusing minors.

The alleged abuse by Castillo occurred within the past two years, Andrews said. He declined to say how Castillo met the two boys or whether the boys and their parents are current or former parishioners at Our Lady of Guadalupe.

"We are doing this at this time to respect the privacy of the alleged victims," he said.

Castillo, 57, has been at Our Lady of Guadalupe since 2003, Andrews said. He served simultaneously at St. George parish in Ontario from 2006 to 2008.

Castillo was at St. Catherine of Siena parish in Rialto from 2000 to 2003 and at St. Anthony parish in San Bernardino in 1988 and 1989. Castillo was in the Archdiocese of Los Angeles before arriving in San Bernardino, Andrews said.

During the 1990s, Castillo worked for the California Catholic Conference and for the Diocese of San Bernardino, as vicar for Hispanic affairs and assistant vicar for permanent deacons, Andrews said.

Since the San Bernardino diocese was formed in 1978, 17 priests have been accused of abuse, said Casteix, the survivors network official. Andrews said the diocese's count is priests accused.

Reach David Olson at 951-368-9462 or dolson@PE.com