Paisley to Protest at Pope's British Visit

RTE News
September 13, 2010

http://www.rte.ie/news/2010/0913/pope_britain.html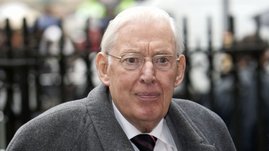 Ian Paisley Believes he is 'duty bound'



Northern Ireland's former first minister Rev Ian Paisley is to lead a delegation to Scotland this week to protest over Pope Benedict's visit to Britain.

The former moderator of the Free Presbyterian Church has said he is angry about how victims of clerical child sexual abuse have been treated.

Mr Paisley has said he believes he is 'duty bound' to lead a group of around 60 demonstrators to Edinburgh.

He has also said the Pope's four-day visit, which begins on Thursday, had not been properly debated at Westminster.