Pope Feels "Pain" over Belgian Revelations

RTE News
September 13, 2010

http://www.rte.ie/news/2010/0913/church_belgium.html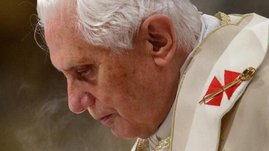 Pope Benedict Said to be following very closely what is happening in the Belgian Catholic Church



Pope Benedict XVI feels 'much pain' following revelations about the magnitude of the priest paedophilia scandal in Belgium, his spokesman has said.

The pope is said to be 'following very closely what is happening in the Belgian Catholic Church', Vatican spokesman Federico Lombardi told Belgian television, in the wake of a report on sexual abuse by priests.

'Like everybody, he feels much pain after the publication of the report, which again reveals the huge suffering of victims and gives us an even more vivid sense of the gravity of the crimes,' he added.

A 200-page report published Friday by the Commission on Church-related Sexual Abuse Complaints, set up by the Catholic Church, said it had investigated 475 complaints between January and June this year.

The document contains testimonies from some 124 anonymous victims and reveals that the sexual abuse for most victims began at age 12, although one was aged just two, while 13 people were driven to suicide.

After a string of similar scandals in Ireland, Germany, and the US, the dam broke in Belgium in April when the disgraced bishop of Bruges, Roger Vangheluwe, quit having admitted sexually abusing his nephew between 1973 and 1986.

Asked if the pope would defrock Roger Vangheluwe, the spokesman said that Benedict could consider such a sanction but a decision has not been taken.

'It is a decision that rests solely with the pope,' he said.