Ian Paisley Coming to Edinburgh in Protest over Pope's Visit

By Claire Smith
Scotsman
September 13, 2010

http://news.scotsman.com/news/Ian-Paisley-coming-to-Capital.6529661.jp

THE Rev Ian Paisley has confirmed he is travelling to Edinburgh to protest against the state visit of the Pope to Scotland.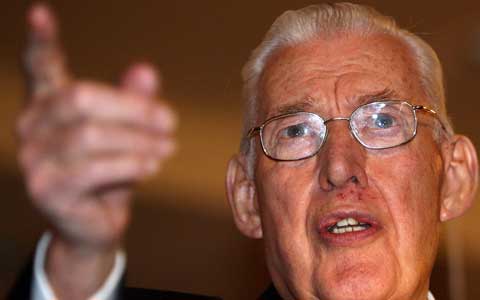 Rev Ian Paisley. Pic: PA



Mr Paisley, along with 60 ministers from the Free Presbyterian Church of Ulster will be congregating at the Magdalen Chapel in Cowgate, in a church where John Knox once preached. The ministers will then stage a public protest in the Grassmarket, unfurling a banner objecting to the visit.

The decision has prompted criticism from politicians in Scotland, although the Catholic Church is taking a lighter view. Yesterday Cardinal Keith O'Brien said he would have been susprised if Mr Paisley had decided to ignore the Pope's visit.

Mr Paisley, who sits in the House of Lords as Lord Bannside, said: "We will be having a meeting in the place where the church of Scotland was formed and was presided over by John Knox. That building will be at our disposal.

"What we're doing, we're making a legitimate protest about something that is entirely wrong, and I am looking at myself as a person who is prepared to champion those who have been very, very badly treated by these priests of Rome."

Mr Paisley's decision to make such a public stance aganst the Pope's visit may come as a surprise to many observers, who have grown used to seeing the Presbyterian firebrand embrace the peace process in Northern Ireland, sitting alongside former sworn foes such as Sinn Fein politicians Martin McGuinness and Gerry Adams.

Indeed, relations between Mr Paisley and Mr McGuinness are considered to be so cordial they are popularly referred to as the Chuckle Brothers

A statement from the current moderator in Ulster, Ronald Johnstone said: "The Free Presbyterian Church of Ulster views the state visit of Pope Benedict XVI to the United Kingdom with dismay and abhorrence.

"Many citizens do not welcome the visit by the head of the Vatican State to this country on financial, constitutional and on moral grounds."

The Rev Wesley Irwin of the Free Presbyterian Church of Ulster in Rutherglen, where a protest meeting will be held tomorrow night, said: "We reject sectarianism - there is nothing like that in our protest. It is not our intention to cause anger or upset. But we feel that at this time of financial restraint it is sad that tax payers are being used to fund this event."

However, Cardinal O'Brien, head of Scotland's Catholics, played down the importance of the protest.

At a press conference ahead of the Pope's visit he said he was not surprised that Mr Paisleyhad chosen to make a public protest.

He said: "I'm from the north of Ireland myself and Ian Paisley is, or was, a Member of Parliament in my home area in the north of Antrim. Bascially, if Ian Paisley didn't come, I wouldn't have thought the visit was worthwhile. It just shows how important this visit is that Ian Paisley's coming along to protest."

Shadow Scottish secretary Jim Murphy MP said Mr Paisley's views were out of step with most Scots: "Scotland has changed. We are a modern nation of all faiths and none. Rev Paisley is entitled to his peaceful views but most people thought he had changed too. On this issue he is out of kilter with most Scots."

Labour MSP Michael McMahon said he did not think the protests would detract from the positive aspects of the Pope's visit. He said: "We live in a free and democratic society and anyone who wants to protest peacefully is entited to. I think the visit will be a great success and important for many Scots and don't think this will detract from the importance of it."

Yesterday Cardinal O'Brien preferred to focus on the positive aspects of the visit, insisting the visit will provide a moral value that will far outweigh its ?12 million cost to the British taxpayer.

Cardinal O'Brien argued that the overwhelming legacy of the visit would be positive.

He added: "It improves morality in the Catholic Christian community. It will outweigh any fears, any worries, any depression that folk might feel about the cost. I look forward to it very, very positively."

Afterwards a spokesman for the Catholic Church explained that the Cardinal viewed the papal visit as an opportunity for people to "chart a new course" using the Pope's "moral compass". He said the Pope's message was that humans were spiritual beings, and that faith and reason were compatible, a "truth" he said was being increasingly forgotten. "That is the moral benefit that in years to come will out weight the financial cost."

The spokesman also said two studies suggested the Scottish economy could benefit by up to ?13m as a result of the Pope's visit.

But the Humanist society insisted there would be no moral value from the Pope's visit. A spokesman said: "The Catholic Church continues to imagine it has moral authority, but that has sadly been lost not only by the priests who sexually abused children, but by the Vatican that covered it up. The struggles for female rights and gay rights are the moral causes of our time, points on which the Catholic Church is blind."

Cardinal O'Brien admitted the sexual abuse of children and young adults in the Catholic Church world-wide was a "horrible scandal". "It has caused terrible injury to children and young adults and equally horrible has been the cover-ups, but I think the Pope has put strong steps to prevent it from happening. Nobody loses face by saying, 'sorry' and 'I'm trying to do better'."

When asked if he would welcome a statement on the issue from the Pope while in Scotland, Cardinal O'Brien pointed out that Scotland had very few cases compared with other nations; however, he said he would be "happy" if he did and equally "happy" if he did not.

Cardinal O'Brien rejected claims that the visit, including a Mass at Bellahouston Park in Glasgow - at which Britain's Got Talent runner-up Susan Boyle and Michelle McManus, winner of 2003 Pop Idol, will both sing - was being commercialised. He said: "If you've got a good message, and I think we have, there's no harm in marketing it in the very best possible way. We want to get as many people as possible to listen to the Pope's message."

He said Pope Benedict would find a more secular country since the visit of Pope John Paul II in 1982. The cardinal added: "there is even more need to have someone to proclaim the Christian message to those who want to hear it, and for those who don't want to hear it, fine. That's according to their conscience. But it will be presented to them in a very strong way, I'm sure."

Asked about recent surveys that showed an increasing percentage of Catholics were comfortable with contraception, homosexual relations and abortion, all proscribed by the Catholic Church, the Cardinal said he hoped the Pope's visit would draw people back to its teachings.